Bodies in Mansfield Garden Murder: William and Patricia Wycherley 'Kept Sending Christmas Cards Years After They Vanished'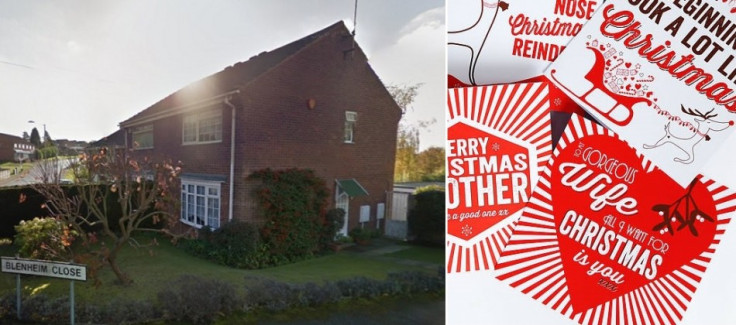 Police have launched a murder enquiry after two bodies were found buried at a house belonging to a couple who vanished mysteriously 15 years ago - but continued sending Christmas cards to relations for years after.
Relations of William and Patricia Wycherley continued to receive cards from them until only four years ago - 11 years after they vanished from their Mansfield home, aged 75 and 64 respectively.
Last week, two bodies were found buried in the garden of their home by police. Detectives have admitted it was "not a great leap" to imagine the bodies found beneath the lawn are those of the Wycherleys.
Now they are going back in time in a bid to find out what happened to the couple who apparently signed the cards as "Will and Pat."
A Nottinghamshire police spokesman said: "The 'disappearance' of an elderly couple is central to the inquiry into human remains found buried in Mansfield last week."
News that a murder investigation is now underway at the Wycherleys' home looks set to shock relations, who said they thought the couple were still alive.
Hiliary Rose received a card from the Wycherleys as recently as 2009. She said she believed they were not dead: "I know this because my mother died in September 2009 and a Christmas card arrived two months later," she said.
A second niece named Vivien Steenson, 75 said she still got sent cards from her uncle until 2006 - but the cards were signed by the couple's daughter Susan for five years after that.
Neither William nor Patricia were never reported missing and police have no evidence of them being alive or dead. Meanwhile, it could be weeks or months before the bodies found at their old home are identified because they are so badly decomposed.
Leading the probe, Det Ch Insp Rob Griffin said: "Neither William nor Patricia were ever reported missing and we can find no evidence of either of them being alive or dead. The discovery in their former garden last week may be the reason why.
"We have yet to formally identify the remains, and so cannot say with 100 per cent certainty who we have found, but it's not a great leap to imagine it might be the Wycherleys."
Police were alerted to the case last week by a report of an "incident" at the property. The bodies were then discovered in the garden
A 51-year-old neighbour told the Daily Mail: "I hardly ever spoke to them, and we never really saw them, or anyone visiting them. Then they just vanished. It was weird.
"The word on the street was that they had emigrated. But I thought that was strange as they seemed so elderly. I have been here for 18 years, and they were here when I moved in."
© Copyright IBTimes 2023. All rights reserved.