A London-based designer has launched a Kickstarter campaign to raise funds for Altergaze, a pair of 3D-printed virtual reality goggles that can be used together with your smartphone.
Virtual reality technology is currently a hot topic, with even Facebook getting on board and spending $2 billion (£1.2bn) to purchase Oculus VR, the maker of the Oculus Rift virtual reality gaming headset.
There are some who have been critical of Oculus Rift, feeling that the headset is too bulky, so Altergaze has designed a pair of virtual reality goggles that are smaller and designed to work with Android smartphones or iPhones.
The company is seeking to raise a total of £25,000 and unusually, wants to make their design open source so that anyone who owns a 3D printer can become an official supplier of the Altergaze device.
"I am a firm believer that virtual reality should be used as a way of connecting people rather than isolating them into their own virtual worlds," Altergaze creator Liviu Berechet Antoni told Mashable.
"A lot of people, when talking about virtual reality, expect to see a simulation of reality. I think the beauty of it actually lies in the worlds that are as far from reality as possible — 'Alice in Wonderland' kind of experiences."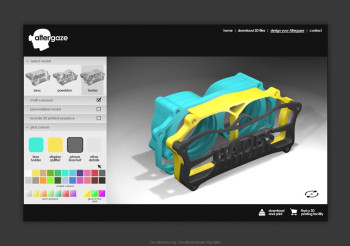 The idea is that users could use the smartphone to play 3D virtual reality games on their smartphones, which would be a boon to mobile app makers, as well as to use virtual reality in a public setting, either to show clients new designs, or during an event like a concert or museum tour.
The goggles will have a field of view of 110 degrees for the handheld rubber eyepiece or 90 degrees for the headgear's rubber eyepiece. The display resolution would be at least 1136 x 640 pixels, going up to 1920 x 1080 pixels on the Samsung S4, and the whole device would only weigh 220g.
So far the campaign has raised £15,386 and if Altergaze reaches its target, it will build an interactive website where users can preview and customise their design before printing it out using their own 3D printer.
Users will be able to pick from 30 different colours including glow-in-the-dark or transparent, different smartphone bracket sizes and different designs to personalise the device's front plate.