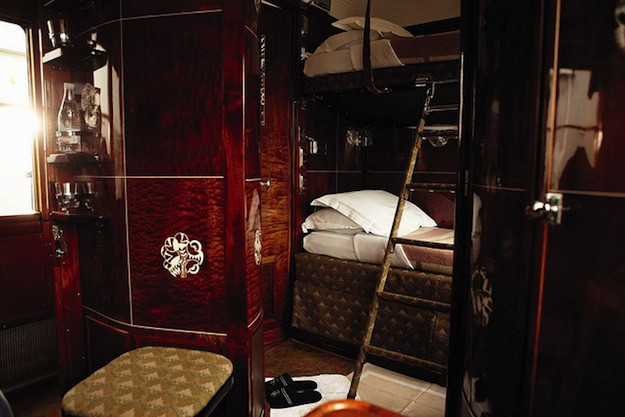 An ex-chairman of the BBC's board of governors claimed expenses for having sex with a prostitute on the Orient Express, according to a historian.
Lord George Howard was BBC chairman from 1980-83 and used licence fee payers' money to pay for the sex worker, claims Joan Seaton, the official BBC historian.
As part of her research for her book Pinkoes and Traitors: The BBC and the Nation 1974-1987, Seaton spoke to many ex-employees of the BBC.
During a talk at The Hay Festival, Professor Seaton says she questioned a former secretary. "She calls up the security man. He clears all the secretaries out of the side office.
"The safe door swings open and in this safe there is one thing – a brown manilla envelope.
"And in the brown manilla envelope is a signed-off expenses form for the use of a prostitute on the Orient Express by the chairman, Lord George Howard."
Professor Seaton told the Times: "It had been left there by a previous secretary who had had a nervous breakdown. He had left it there as a warning that she would have to deal with the chairman and he had to be managed around these young women."
In her book, Seaton said Lord Howard's status meant the expenses claim was never reported as inappropriate.
"A great landowner, a man with a fine war record, a widower: how and where could a complaint about him be made?" she writes.
Lord Howard died in 1984 and was the owner of Castle Howard, which was the setting for the TV version of Brideshead Revisited in 1981 and 2008.
During her talk at Hay, Seaton also spoke about attitudes at the BBC in the 1970s which allowed men to abuse their position of power, such as Jimmy Savile.
Among the book's revelations are claims made to Seaton by former BBC employees who told her about a senior executive who propositioned female secretaries, inviting them spanking sessions.
When the women complained, instead of the executive being sacked, they were given a new job in New York.
Seaton also says in her book that broadcasters Huw Wheldon and Malcolm Muggeridge "groped incontinently", and claims that "sexual harassment was routine" at the BBC during the 1970s and 1980s.