A former UK ambassador to Moscow has revealed on Thursday the role he played in warning the US about the recent Trump dossier and the unverified allegations it contained. On Tuesday, a series of memos written by a former MI6 agent which alleged that Russia held compromising information on US president-elect Donald Trump were released by media agencies.
The release and subsequent furore prompted Trump to confront certain media agencies in a press conference on Wednesday, accusing them of being "fake news".
Former British ambassador to Russia, Sir Andrew Wood, told the Independent that during an international security conference in Canada, he spoke with US Senator John McCain about the allegations surrounding Trump and his ties to the Kremlin. After speaking with Wood, McCain thought the allegations so serious that he approached FBI director James Comey with the dossier.
"Yes I did meet Senator McCain and his aides at the conference," Woods told the paper, adding: "The issue of Donald Trump and Russia was very much in the news and it was natural to talk about it. We spoke about the kind of activities the Russians can be engaged in. We also spoke about how Mr Trump may find himself in a position where there could be an attempt to blackmail him with [compromising material] and claims that there were audio and video tapes in existence."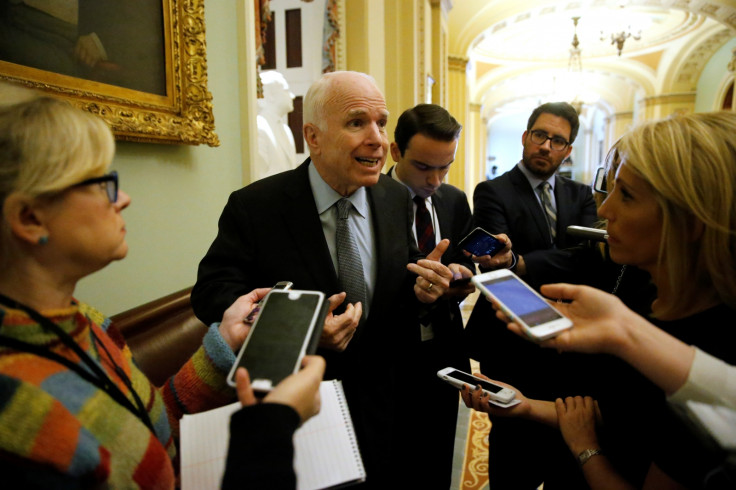 Sir Andrew stressed that he did not pass the dossier to McCain or anyone else, nor had he seen a dossier at the time. Though he did say that he knew the ex-MI6 agent who compiled the unverified reports, Christopher Steele: "in my view he is very professional and thorough in what he does," Wood said.
"My view is that these are serious matters and that they should be investigated. I don't think I have done anything wrong at all in what I have done," said Wood. Upon the release of the memos, Steele went into hiding, fearing for his life.
Speaking to the Times, Sir Andrew said that he thought the possibility of Russia having compromising material against Trump was "logical"