Downing Street defends move to protect identity of ex-MI6 agent behind Trump dossier
Tory MPs urge Theresa May to distance the UK government from report by Christopher Steele.
May's first meeting with Trump still being finalised.
The UK government has defended its decision to try and protect the identity of Christopher Steele, an ex-MI6 agent who is believed to be behind a dossier on President-elect Donald Trump.
The government has come under criticism for issuing a Defence Advisory Notice (DA) over the incident — a request to news editors not to publish or broadcast items on specified subjects for reasons of national security.
DA notices, which were introduced in 1912, stand as a "voluntary code" and are not legally enforced, meaning it is up to to news editors to decide whether to comply with the request.
Steele was named as the person behind an uncorroborated 'dirty dossier' on Trump, published in full by Buzzfeed News despite doubts over its authenticity.
The 52-year old former intelligence agent has been revealed as the director of London-based Orbis Business Intelligence Ltd.
The document alleges that Russian intelligence has compromising information that could be used to blackmail the president-elect when he takes office on 20 January.
The report, based on Russian sources, further claims that the Kremlin has footage of Trump with prostitutes in Moscow and that members of the Trump camp had secretly colluded with Russia.
There remains no evidence to substantiate Steele's claims. The report was initially funded by Republican opponents of Trump and subsequently by the campaign of Democrat nominee Hillary Clinton.
Trump has denied the allegations and accused CNN and Buzzfeed of spreading "fake news" during a fiery press conference on Wednesday (11 January).
Downing Street says DA notice standard process
The prime minister's spokeswoman said that it was "standard process" to use DA notices to protect the identity of compromised agents, both active and retired. She also said that no serving officials seem to have been involved in the memos, The Daily Mail reports.
When asked whether the government is giving any assistance to Steele after he went into hiding following the news leak, she said: "We are not commenting on this."
There is now growing speculation that Steele could have sought safety at a 'safe house', the newspaper reports.
The spokeswoman continued: "There is a standard process that is followed with regard to the naming of people that have worked in certain roles in the civil service, be they still serving or former roles. As I said, all the reporting I have seen of this seems to relate to former employees."
May's meeting with Trump still on schedule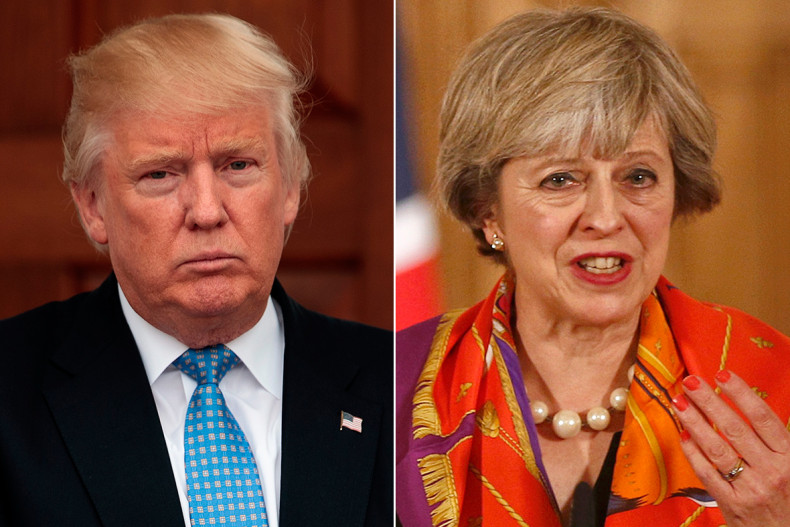 The spokeswoman said that she was not aware if Trump's transition team had been in touch with the government to seek clarification.
"We are in touch with the team to continue the planning for the first meeting between the Prime Minister and the President-elect," she added.
There has been concern that the controversy over the memos could affect May's efforts to rebuild the special relationship between the UK and the US.
Former Ukip leader Nigel Farage has urged May to give "private reassurance" that the government had no involvement in the memos.
"These are the actions of an individual who did apparently once work for the intelligence services. Private assurance might be sensible but I don't think this poses a big issue for the British government," Farage said.
Backbencher Philip Davies told MailOnLine: "Whether they say it in public or privately, say it to Donald Trump - I'm not really bothered - but as long as the president-elect knows none of this is being done on behalf of the UK as a country or on behalf of the UK as a government.
"If this person acted as an individual then MI6 should not be assisting him. If they do assist him then it will look as if his actions were sanctioned by MI6 which would be utterly unacceptable," Davis added.
Moscow remains unconvinced
In tweets sent out by the Russian Embassy in London, it is clear that Moscow seems to believe that there is some British government involvement in the preparation of the dossier on Trump.
"Christopher Steele story: MI6 officers are never ex: briefing both ways - against Russia and US President,"
A 11 January tweet by the embassy also slams the UK government saying: "Thatcher went to US to mend relations btw Washington & Moscow & end Cold War. Boris Johnson pursued the opposite objective."