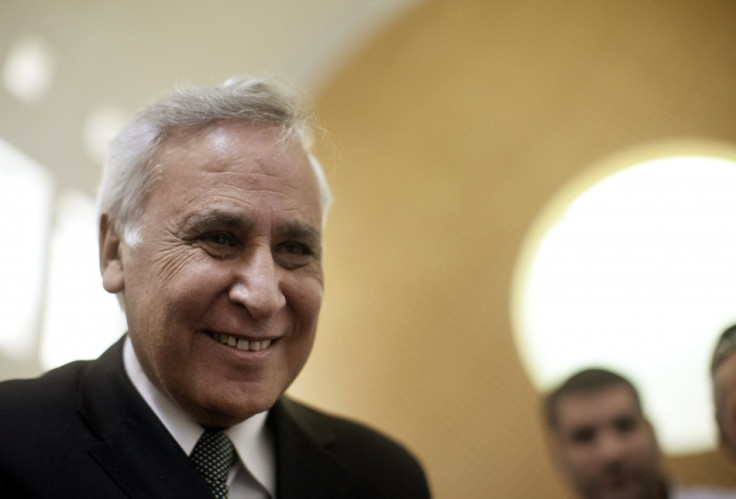 Former Israeli president Moshe Katsav is to be freed on parole after serving five years of a seven-year sentence for rape. Katsav, 71, who was president between 2000-2007, was convicted of rape in 2011, and became the first Israeli president to serve a custodial sentence.
Katsav, who could walk free as early as next week, burst into tears after hearing the news, his lawyer, Zion Amir, told Israeli army radio.
He said: "It was a very long journey… Today that journey reached its end with a reasoned decision by the parole committee."
Katsav was convicted of raping a former aide as well as sexually harassing two other female employees during his time as the Israeli minister of tourism in 1998. His attempt to appeal the sentence was overruled.
At the time of the appeal, the three-judge panel presiding over the case said: "He misused his position and defiled the bodies and dignity of [the women]… He fell from dizzying heights to a deep abyss."
The decision was welcomed by women's rights groups and prosecution lawyer Naomi Granot said after the verdict: "The ruling of the Supreme Court reaffirms that everybody in Israel is equal before the law."
Earlier this year, an Israeli prison parole board rejected a request by Katsav for a conditional early release from prison. At the time of the request, Israel's Justice Minister Ayelet Shaked had argued the case for his release.
She said: "There's no reason that the parole committee should not release former president Katsav. He meets all the criteria."
However, early release from prison sentences in Israel is usually contingent on convicts expressing remorse for their actions. Katsav has always protested his innocence, and so had not done so. He claimed that he had been the victim of a plot to oust him from office.
In its ruling in April this year, the parole board overseeing Katsav's application referred to an "obsessive" preoccupation with trying to prove his innocence. It added that he may still pose a risk to women.
"From his appearance before the committee and from his words, the committee gained the impression that the prisoner considers himself as a victim," the parole committee wrote.
It added: "[Katsav] is busy blaming external forces for his situation and still conducts himself in an aggressive manner, absorbed with himself, his own needs and losses, and only with the price that he and his family have paid."