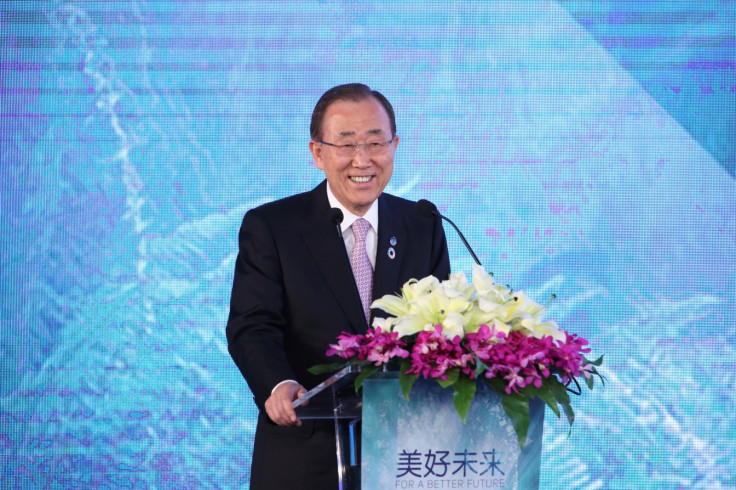 Former UN secretary-general Ban Ki-moon is reported to have given up on his dream of running for South Korea's presidency. He spoke at an unscheduled media conference on Wednesday (1 February) after a meeting with leaders of conservative parties.
"I will give up my pure aspiration to achieve a change in politics under my leadership and unify the country. I was very frustrated by (some of the political circles') parochial, selfish attitudes, and reached a conclusion that it is meaningless to move forward with them," South Korean news agency Yonhap cited Ban as saying.
His impromptu announcement comes as a surprise to many in his country, which has been hit by political and corruption scandals.
Ban apologised to the people of South Korea for "disappointing" them as he announced his decision against contesting in the presidential election.
"I will withdraw from politics. I'm sorry for disappointing many people," he told reporters at a press conference.
"My pure patriotism and aspirations have fallen victim to slander that was close to personality slaughter," he added.
He returned to Seoul in January after his second five-year term as the secretary-general of the UN expired. Although he did not directly say it, he had hinted at running for the country's top job.
However, his presumed candidacy ran into a series of hurdles, with corruption allegations levelled against some of his relatives. His brother Ban Ki-sang was accused of accepting bribes to carry out the sale of a Vietnamese building complex. The incident had put a damper on Ban's political ambition, forcing him to apologise for his family's alleged involvement in the corruption scandal.
Media reports suggested that support for Ban in public opinion polls fell sharply from 20.3% to 13.1% before his announcement.
In an earlier poll from 16 January, Ban came in second (22%) on likely candidates who could become the next South Korean president. The figures showed that the former UN chief was narrowing the gap on the frontrunner Moon Jae-in, an ex-liberal opposition party leader, who was leading at 26.1%.
The next presidential election was not expected in the country until December this year if not for President Park Geun-hye's impeachment following a political scandal involving her friend. If the country's Constitutional Court upholds the impeachment, a snap poll could take place within two months. A ruling is expected by the end of February.
Ban was reportedly planning to run as a conservative candidate, but failed to secure any party affiliation.