The reigning world champion Sebastian Vettel is confident that his Red Bull RB8 has what it takes to be a serious competitor in the 2012 season.
Having completed 96 laps in testing at Spain's Jerez circuit, the back-to-back world champion said in a question and answer session that his "gut feeling seems to signal green".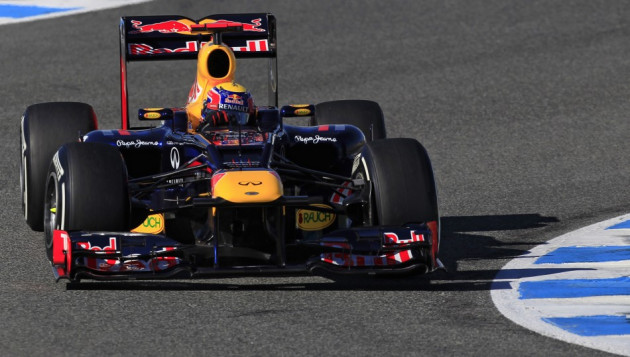 Vettel pointed out that with new rule changes for the 2012 season the cars have less grip. "We have to be more cautious, especially in the morning when the track is pretty cold. We don't have many spare parts for the new car right now, so it wouldn't make sense to go out like a raging bull."
Explaining why there is less grip this season, Vettel said: "If you take the cars from last year and the year before they were basically built around the rear with the double diffuser in 2010 and the blown exhaust last year.
"That is almost completely gone this year. Yes, we still have an exhaust, but it is almost irrelevant. You realise that when braking, when accelerating and when going into the corners."
Last year most teams directed exhaust gases through the rear diffuser underneath the car, this extra air flow created more downforce, but for 2012 this technique is banned by Formula One's governing body, the FIA.
With regard to the competition, Vettel said: "Lotus look pretty good from what I've seen. They've been fast and showed a consistently good performance. Ferrari and McLaren are the big question marks - and maybe so are we."
Looking to the season ahead, the German driver said: "There's a long way to go. It's the first day. There's a lot more to come and we need to understand how the car works and then we can address the problems properly and hopefully take the development in the right direction.
"But for now it's just about understanding what is the main point for this year and what are the weaknesses and where we can improve."