Ferrari continue to dominate the timesheets at the Circuit de Cataluna in Spain, ahead of qualifying for the 2013 Formula 1 Spanish Grand Prix. Two-time world champion Fernando Alonso was in superb form on Friday and on Saturday 11 May, in the final practice session before the qualifying period, his team-mate, Felipe Massa, posted the fastest time.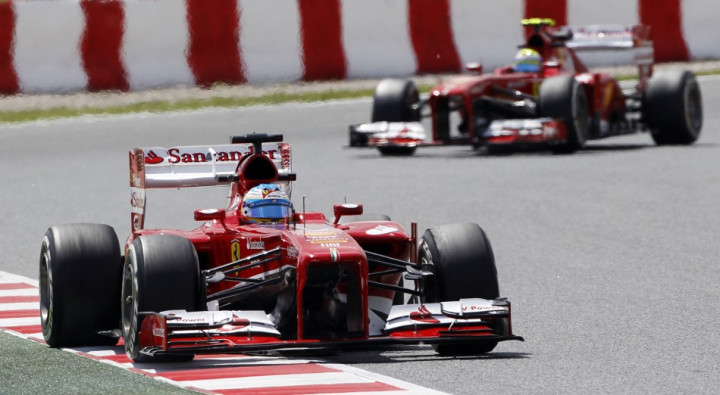 The Brazilian lapped the 4.655km circuit in 1:21.901 but he was pushed all the way by Lotus-Renault's Kimi Raikkonen; the Finn continued the weekend's trend of incredibly close times by posting 1:21.907... a mere six-thousandth of a second slower than Massa.
Alonso, the hero of Friday, had a less eventful Saturday morning, with a best of 1:22.254 to finish sixth. His championship rival, Sebastian Vettel of Red Bull Racing was fifth, 0.025s faster.
Vettel's team-mate Mark Webber was third, with 1:22.044 and Raikkonen's team mate, Romain Grosjean, was fourth with 1:22.069.
READ: Formula 1 Spanish GP 2013: Fernando Alonso and Ferrari Dominate Opening Practice
The Force India-Mercedes team have gone from strength to strength so far this season and look set to enjoy another productive weekend. Paul di Resta finished seventh with 1:22.574, 0.155s faster than team mate Adrian Sutil.
British driver Lewis Hamilton, the 2008 world champion, had a poor session. The Mercedes team have struggled so far this race weekend and Hamilton's 1:22.740 was indicative of that problem. The Brit finished ahead of Toro Rosso's Jean-Eric Vergne, who may have a slower car but has impressed by consistently finishing in the top ten in practice.
Close Times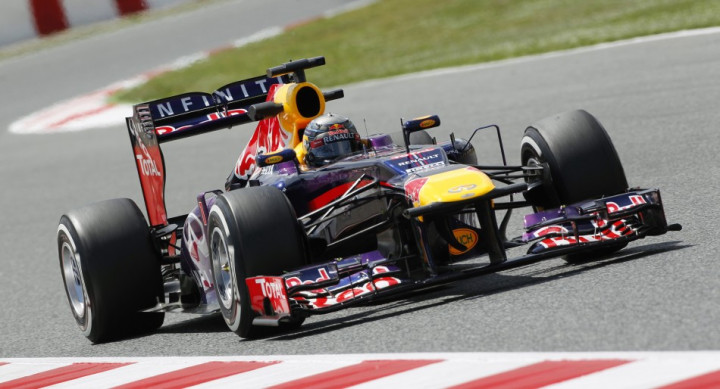 Practice sessions may not be the most reliable indicators of race pace, strategy or offer any concrete pointers in terms of who will win the race but they do offer some hints as to has outright pace. The Ferraris have been immensely quick all weekend and will be favourites going into the qualifying session.
READ: Formula 1 Spanish GP 2013: Vettel Fastest in Second Practice with Alonso Close
Alonso and Massa also displayed impressive pace in the Friday morning session, with changing track and weather conditions, which will please the Italian team in the event of rain during the race. Qualifying has been a relative weakness for the side in the opening races of the season, something technical chiefs said they were addressing. Based on these times, they may have done just that.
Vettel and Webber do not usually display true pace in practice sessions, with the Red Bull team preferring to preserve themselves for qualifying and the race. That does not mean, though, that the car is slow. The German, the defending world champion, set a strong pace in the second session, finishing on top with 1:22.808. The fact Alonso matched him to 0.017s indicates we should be in for an exciting qualifying session and race.
The Lotus-Renault has been the surprise of the season. We knew it was a strong package, potentially a podium package, but for Raikkonen and Grosjean to be challenging for and winning races so early in the season is a wonderful performance. The Finn, a former world champion with Ferrari, has already won one race this year and based on his third practice time, will again be a dangerous competitor.
As for the rest - McLaren, Mercedes and Force India, the drivers and teams are likely to rely on strategy to score points, with most of the drivers seemingly lacking pace. Jenson Button has been slow all weekend, with Saturday's 1:23.151 his fastest time. Hamilton and his team-mate Nico Rosberg have been better, but not by much.
READ: Formula 1 Spanish GP 2013: Where to Watch Qualifying Live and Weather News