The 2013 Formula1 Monaco Grand Prix weekend resumes on Saturday, with the third and final practice session starting mid-morning. The 60-minute session will be followed by the all-important qualifying period and the race will, as usual, be on Sunday afternoon.
Mercedes' Nico Rosberg was fastest in both of Thursday's practice sessions and with team mate Lewis Hamilton showing promising pace as well, the Germans look strong contenders for a first win of the season.
UPDATE: Formula 1 Monaco GP 2013: Nico Rosberg Wins in Monte Carlo in Crash-Filled Race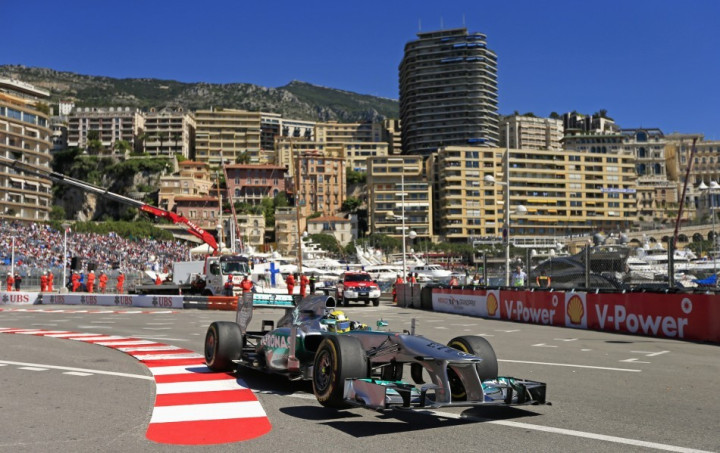 Where to Watch Live
Live coverage of the third practice session starts at 9.45am BST on Sky Sports F1. Live coverage of the qualifying session starts at 12pm BST on Sky Sports F1. Radio commentary for the qualifying session starts at 1pm BST on BBC Radio 5 live. Real time text updates, for both sessions, are available under the Live Timing section on the sport's official Web site.
Thursday Practice Review
The highlight of Thursday practice was probably the lack of pace from defending world champions Sebastian Vettel and Red Bull Racing. The Milton Keynes outfit did not impress in either session, with Mark Webber's 1:15.404 in the afternoon their best.
However, both drivers posted top ten times and Vettel's afternoon session was hampered by a problem with his KERS unit. Yes... they'd probably have liked to finish a little higher up the timesheets but Red Bull are looking for a fourth consecutive race win at Monaco (Webber in 2010 and 2012 and Vettel in 2011) and will certainly start qualifying as one of the favourites.
Lotus-Renault's Romain Grosjean crashed into Ste Devote in the afternoon session but the Frenchman still managed to finish that period in seventh, with a time of 1:15.718 that was only 0.207s slower than team mate Kimi Raikkonen.
READ: Formula 1 Monaco GP 2013: Nico Rosberg Leads Ferrari in Thursday Practice at Monte Carlo
The Finn, a former world champion with Ferrari, was slightly off the pace in both sessions but the speed Grosjean displayed on the soft compounds on Thursday afternoon will encourage both drivers and the team. Grosjean finished third in the first session, with a time only 0.185s off Rosberg.
The leaders at Monaco, so far, are undoubtedly Mercedes. Rosberg became the only driver, so far this weekend, to post a time below 1:15.000 when he clocked 1:14.759 in the afternoon. The car looks in superb form and the long run on the supersoft tyres in the second session could help solve the race pace problem. Hamilton improved from fifth in the first session and said afterwards he was convinced the car had still more pace to offer.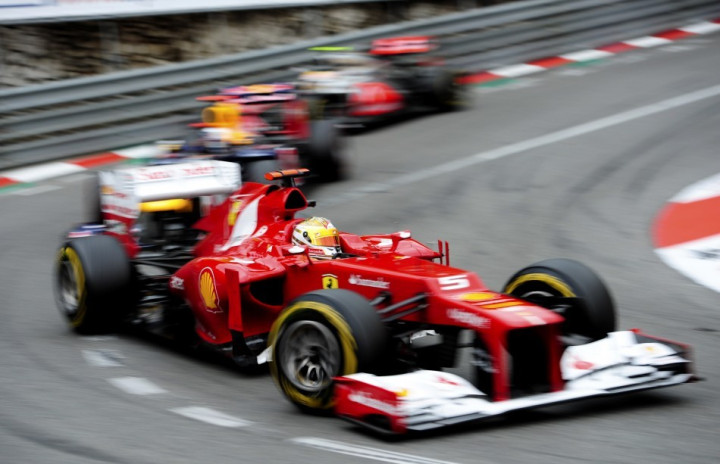 Ferrari drivers Fernando Alonso and Felipe Massa, the former a strong winner at the Spanish Grand Prix two weeks ago, have been impressively quick as well. The Spaniard was only 0.087s slower than Rosberg in the first session and although that gap opened to 0.437s in the second, the Italians will be confident of their chances.
READ: Formula 1 Monaco GP 2013: Nico Rosberg and Mercedes Dominate Again with Ferrari Third
Finally, McLaren drivers Jenson Button and Sergio Perez had mixed fortunes on Thursday. Button managed eighth in both sessions, with a best of 1:15.959 in the afternoon. Perez clocked 1:17.378 for ninth in the first period but slipped to 12th in the second. After the session, Button explained the team was still working on a few balance issues but the British driver also said the second session's long runs were surprisingly good.
READ: Formula 1 Monaco GP 2013: Nico Rosberg Unstoppable in Monte Carlo, Leads Ferrari and Red Bull
Weather News
The third and final practice session starts at 11am local time and qualifying is at 2pm local time. There is bad news from the weather front though. Rain is expected almost throughout the day, with temperatures peaking at 18C at around 4pm local time. Cloud cover will be fairly high as well, meaning sunshine may be at a severe premium. Wind speeds of 12km/h to 14km/h are expected from 10am local time on and except for a little dip in the early afternoon, a generally west-northwest wind current is likely.