Defending champion Sebastian Vettel clinched the 2013 Formula One Malaysian Grand Prix in dramatic fashion, after winning an intense late battle with Red Bull team-mate Mark Webber.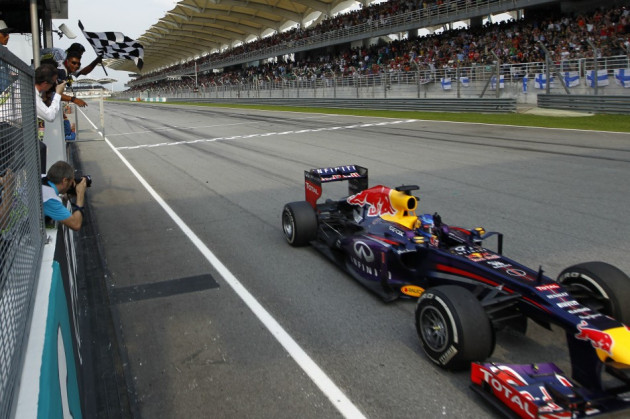 Lewis Hamilton finished third, ahead of Mercedes team-mate Nico Rosberg. The Brit's good start to the season continued but his performance dropped towards the later stages of the race, after mixing it with the Red Bulls during the earlier laps.
Ferrari's Fernando Alonso crashed on lap two after breaking his front wing but the Spaniard's team-mate Felipe Massa managed to take fifth. Romain Grosjean finished sixth ahead of Lotus team-mate Kimi Raikkonen, who won the first race in Australia last week.
The race was full of drama as the internal problems at Red Bull surfaced. Vettel battled with Webber for much for the race and had complained to his team about the Australian's slow pace earlier in the race. Both cars almost touched as the three-time champion took the decisive lead on the 46th lap, ignoring a team instruction to stay behind.
Vettel was warned by Red Bull chief Christian Horner that he was being "silly" but the two cars battled wheel-to-wheel around several times, before Webber finally appeared to surrender his lead to his team-mate despite having the inside line advantage.
"Good job, Seb. Looks like you wanted it bad enough. Still, you've got some explaining to do," was Red Bull's message to Vettel, as soon as he won the race.
Webber had turned the mapping of his engine down, after the last pit stop, according to team orders. Vettel was also asked to do the same and hold position but the German did not.
"After the last stop the team told me the race was over and we turned the engines down and go to the end. The team made their decision. Seb made his own decision and he will have protection as usual," Webber stressed.
Sauber's Nico Hulkenberg took eighth, ahead of McLaren's Sergio Perez, with Toro Rosso's Jean-Eric Vergne completing the top 10.
The result puts Vettel into the championship lead by 11 points from Raikkonen. Webber is another five points behind but ahead of Hamilton, Massa and Alonso.
Hamilton Enters McLaren's Pit
Meanwhile, Hamilton raised a few chuckles when he pulled into former team McLaren's pit in the eighth lap. The 2008 world champion, who moved from McLaren to Mercedes this season, was making his first pit stop of the race but pulled into his former team's area, much to the surprise of the McLaren crew. They waved him through as the Brit continued on to the Mercedes' pit.