The fifth episode of The Fosters season 3, will find Callie taking Brandon on an impromptu trip to Mexico, while Stef and Lena suspect that someone in the family is pregnant.
Episode 5 is titled, Going South, which will air on 6 July at 8pm on ABC Family.
According to the official synopsis, "Callie convinces Brandon to head out on a mysterious trip that brings them to Mexico. Stef and Lena discover an empty pregnancy test box in the trash and wonder if someone in the house is worried they are pregnant. The episode was written by Michael MacLennan and directed by Elodie Keene."
In the previous episode we saw, Brendon being dismissed from his music camp group in Idyllwild. Moreover, Mariana was confused about her feelings for Matt, and was ridden with guilt for having slept with Callie's former boyfriend Wyatt. The most interesting part of episode 4 was when Jude and Connor finally accepted who they were and expressed their love for each other at the LGBTQ prom night.
In the upcoming episode, reports suggest that Callie invites Brandon to go on a trip with her to Mexico because she is searching for some important information, which may be about JJ's brother. While on the trip, Callie and Brandon may look back at their past and may want to get back together.
In the past two seasons, the two have been romantically linked. However, in season 3, it seems that they have both accepted their fate as foster siblings, but as Brendon is seen getting jealous when he sees Callie and JJ together, it will not be difficult to state that he still has feelings for her.
Meanwhile, in the latest promo of episode 5 Callie and JJ are seen getting closer, while the voice over says: "Life is getting real messy." In the next scene, Brendon is seen confronting Callie about the new foster kid.
"There is nothing going on between me and JJ," says Callie. Brendon laughs and says, "I am not blind Callie." To which a visibly frustrated Callie replies, "You kind of are Brendon."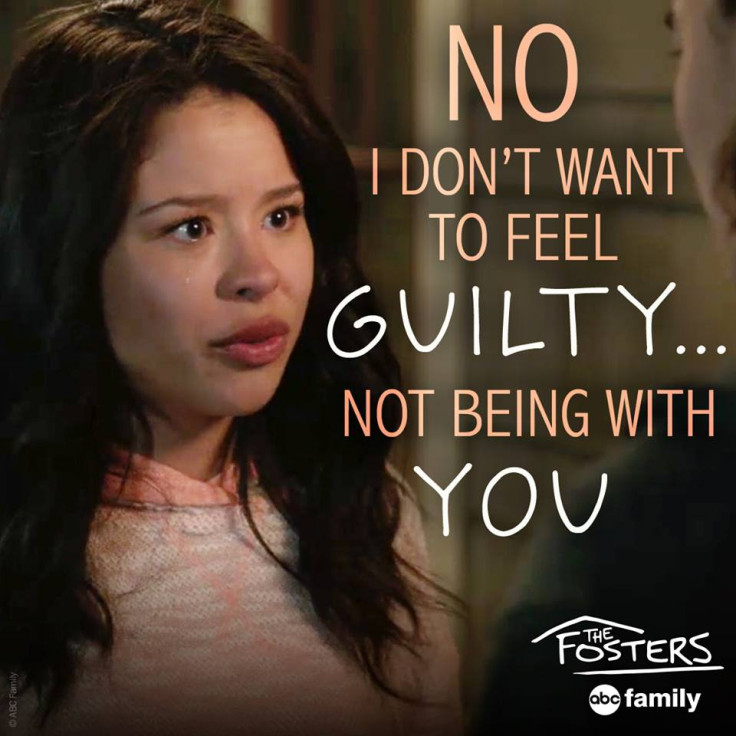 Further, Stef and Lena suspect that one of the foster kids could be pregnant as in another, the Fosters family head discovers a pregnancy kit in the trash. Lena says, "What if she is pregnant?" Which is accompanied by flashes of Mariana, hinting at the possibility that she could be pregnant.
In a previous episode, Mariana had slept with Callie's former boyfriend Wyatt when her boyfriend decided to not have sex with her. She was later seen telling her mother Ana, "What if I get pregnant, just like you!"
So, is there a possibility that Mariana is pregnant with Wyatt's child? If so, then this twist will surely spark some tension between her and Callie.