The upcoming episode of The Fosters season 3 will deal with numerous issues in the family, including Stef and Lena's "potential fallout" in marriage and Callie doubting the new foster kid, AJ.
Episode 3 is titled, Déjà Vu, which airs on Monday, 22 June, at 8pm on ABC Family.
The official synopsis of the episode reads as follows
When the family takes a vested interest in AJ (guest star Tom Williamson, "Switched at Birth"), Callie has doubts about whether she can trust him. Stef surprises Lena with some news about Monte. Meanwhile, Jude has trouble moving on from the trauma of the shooting incident.
In last week's episode, Callie forgave her father Donald, while her biological father Robert Quinn revealed that he was splitting from his wife. Meanwhile, Jude's dad accepted his relationship with Connor, in front of Connor's father who was not approving when he learns that the entire school knew his son was gay.
Also, Stef and Lina asked Mike to foster AJ, who was extremely forthcoming about the opportunity. And Marina tells Ana about how she betrayed her boyfriend, Matt and Callie by sleeping with Wyatt, Callie's ex.
Meanwhile, the latest promo of the upcoming episode shows, Jude is still not over the shooting incident where he and his friends accidentally shot Connor in his feet last season.
In the promo Jude is seen telling Connor, "I am going to a shooting range," to which he replies, "Seriously?" And then some gun shots are heard.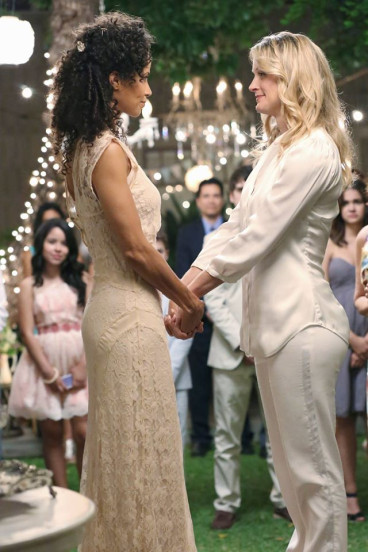 Looks like Connor will help Jude get over the accident, by going to the shooting range with him.
Moreover, Lena and Stef have a brief discussion over principal Monte Porter. As fans know that Lena was previously involved with her boss, and they even shared a kiss in the season 2 finale.
The promo further states, "The truth will come out," as we see Stef asking Lena, "Did you know she [principal Monte] was gay?"
Although, their marriage has so far remained on firm grounds -- even with its challenges -- Monte and Lena's involvement could lead to some complicated drama on the show.
However, executive producer Joanna Johnson told The Hollywood Reporter, that Monte kissing Lena will be a big part of Lena and Stef's relationship in this next season.
"One of the things we want to explore is 'do you tell your spouse everything that ever happens'?"Johnson teased.
The producer also teased that Lena would struggle to tell Stef the truth.
She said, "Obviously, Lena didn't kiss Monte. Monte kissed her. I think that Lena struggles. She's thinking, do I tell my wife what happened and then she's very uncomfortable because I'm working with this person? Am I going to be uncomfortable working with this person? Certainly, Lena's not looking to have an affair."
"Stef and Lena handle things very differently. There have been issues about Stef being secretive and that bothers Lena. Now Lena's in the position with a secret as well. But they're definitely having challenges in their marriage and trying to work through it," Johnson added.