Biographical drama The Founder is making its mark this awards season, focusing on the man behind the globally recognisable McDonald's brand - Ray Kroc.
On 17 February, cinemagoers will see Oscar-nominated actor Michael Keaton portray Kroc, who was instrumental in turning a small family business into the global fast-food powerhouse it is today.
Ray Kroc fact file
Full name: Raymond Albert 'Drew Engels' Kroc
Date of birth: 5 October 1902
Died: 14 January 1984
Net worth: $500m (£399.6m)
So who was the businessman behind its success? Ahead of the film's release, IBTimes UK answers that question.
Where did Ray Kroc grow up?
Kroc was born and raised in Oak Park, Illinois, in 1902. During the First World War, he lied about his age and was drafted as a Red Cross ambulance driver aged just 15-years-old, but avoided being sent overseas due to the war ending.
When did Ray Kroc become involved with McDonald's?
Kroc's next role was as a milkshake mixer salesman, and during that time he noted that brothers Richard and Maurice McDonald (played in the movie by Nick Offerman and John Carroll Lynch respectively) bought six multi-mixers for their first store in San Bernadino, California.
Seeing potential in the brand, Kroc offered his services to the brothers and signed on as their franchise agent in 1955. The McDonald's brand began to expand, opening a store in Des Plaines, Illinois (the first opened by Kroc, and the ninth restaurant overall).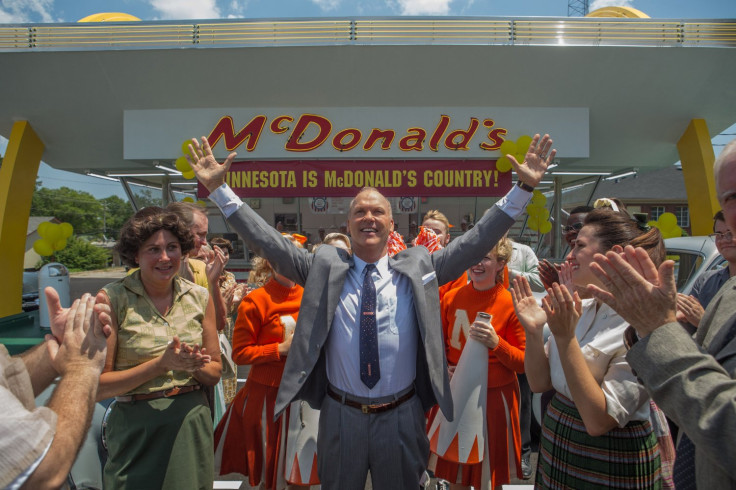 What did Ray Kroc do as McDonald's franchise agent?
Kroc was adamant that McDonald's sell only single-store franchises instead of selling larger, territorial franchises which was common in the industry at the time.
He also peddled the notion of uniformity in service and quality across all restaurant locations. However, Kroc soon grew tired of the McDonald brothers lack of ambition when it came to the business and eventually bought the brand from them for $2.7m (£2.1m) in 1961.
Did he ever marry or have any children?
In his lifetime, Kroc married three times. When he was 20-years-old, he wed Ethel Fleming, whom he had one daughter with. At 61, he married Jane Dobbins and at 67, he married Joan Kroc. From 1974, until his death due to heart failure ten years later, he owned the San Diego Padres baseball team.
Now that you're familiar with Kroc, how about some facts about the company that enabled him to make his fortune? Check out our McDonald's facts below.
10 McDonald's fun facts

Despite Samuel L Jackson's insistence in Pulp Fiction, a Quarter Pounder with Cheese is not known as a "Royale with Cheese". It's called a "Royal Cheese".
The Filet-o-Fish was created in Cincinatti, Ohio, in 1962, to appeal to Catholic customers who eschewed meat on Fridays.
Despite its name, the McRib contains meat taken from the shoulder of the pig, rather than its ribs.
Buffy actress Sarah Michelle Gellar appeared in a McDonald's-bashing advert for Burger King when she was just five-years old, and was forced to testify in court over statements made during the campaign.
Don Gorske of Wisconsin has eaten over 29,000 Big Macs during his life. His cholesterol is below the US national average.
Celebs who worked at McDonald's prior to their careers taking off include Shania Twain, Sharon Stone and Pink.
The first threes branches of McDonald's in the UK were all opened in abandoned Burton's menswear stores.
Upon visiting the McDonald's headquarters in East Finchley in 1983, Prime Minister Margaret Thatcher described the Big Mac as "absolutely enormous" and doubted that anyone could hold one in one hand.
McDonald's items sold in just one nation include New Zealand's Kiwiburger (featuring egg, beetroot and mustard), Slovakia's McSyr (a burger with breaded fried cheese and tartar sauce), and India's Chicken Maharaja Mac (two chicken patties with habanero sauce).
Countries without a McDonald's include Iran, Bolivia and Iceland.