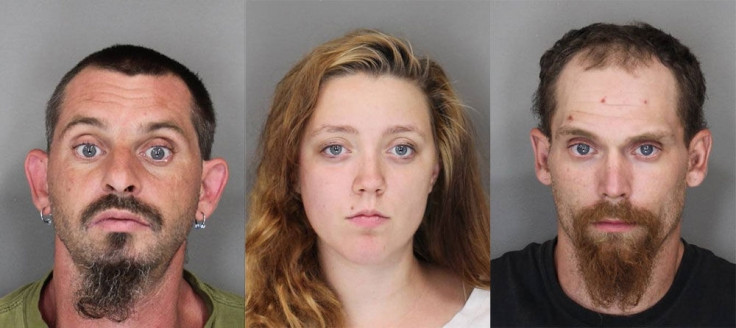 Four people were arrested after a 10-year-old girl who was repeatedly beaten and dragged behind a car with a rope tied around her waist managed to escape and beg for help.
The girl from Albion, New York was allegedly given just one meal a day covered with hot sauce and was forced to work outside all day without food, water or bathroom access. She was then subjected to beatings with what the suspects called "the beating stick".
The victim's mother, 34-year-old Leslieann Raeder, was charged with endangering the welfare of a child, the New York Daily News reported.
Meanwhile, 23-year-old Shawn Whaley, 18-year-old Brandy Shaver and 37-year-old Gary Bubis were charged with second-degree assault.
According to police, the bruised and malnourished girl was able to escape her rural Oswego County home while the adults slept on Wednesday (30 August). The girl was taken to hospital with non-life threatening injuries.
"She was crying, she had tears running down her face, she was all dirty, she hasn't had a shower in two weeks," neighbour Autumn Lee Butchino, who found the girl on her driveway, told WETM-TV.
Oswego County Undersheriff Gene Sullivan said the girl's abuse, which included getting beaten with a tightly rolled newspaper wrapped with electrical tape, had been getting worse since April. "She just couldn't take it anymore," he said.
Sullivan said the victim was once forced to wear a backpack on each shoulder—one on her back and one on her front—and then ordered to run on a dirt road. A car followed the girl and hit her if she ever ran too slowly.
"When she physically couldn't continue, they tied a rope around her waist, tied that same rope to the bumper of the car and began to pull her along," Sullivan said. "When she would drop, they would continue to drive and she'd end up getting dragged."
Bubis, who had a relationship with the girl's mother, was charged in connection to an allegation that he forced a 3-year-old's hand into a container of scalding water. A 12-year-old was also in the home.
Deputies said that while the other children were regularly given meals, clothing and proper bedding, the 10-year-old was the target of repeated abuse.
According to the Oswego County News Now, the four suspects were remanded to the Oswego County Correctional Facility in lieu of Assistant District Attorney Mark Moody's recommended bail of $25,000 cash or $50,000 bond.
Raedar was released on her own recognizance. Whaley and Shaver are due in Williamstown Town Court on 9 September, while Bubis is due in Albion Town Court on 18 September.
The children who lived in the home were taken in by relatives, Sullivan said.