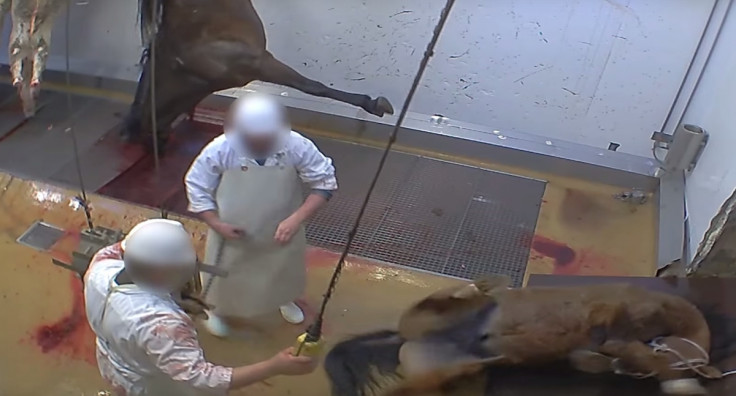 A public abattoir in France has been shut down by authorities, after animal rights activists released a shocking video depicting cruel and illegal practices used to slaughter cattle, including horses and lambs. The mayor of the southern commune of Alès has ordered an investigation into the local slaughterhouse, after footage recorded by an insider went viral online, causing widespread outrage.
Announcing the temporary closure of the facility pending competition of the probe, Max Roustan said he was left "disturbed by the images" released by animal rights group L214.
In the clip, horses and cows can be seen moving and showing signs of consciousness as they have their throat cut while hanging head down. A close-up shot shows pigs squealing their lungs out as they are gassed with CO2. The stunning method also appears to be faulty, as some come to as they hang from hooks ready to be slaughtered.
The video introduced by actress Hélène de Fougerolles capped more than half a million views in less than 24 hours on YouTube. L214 said it was the result of more than 50 hours of recording done over ten days between April and May.
A vet consulted by the group alleged the footage also revealed numerous infractions. In particular, animals that regained consciousness were killed instead of being knocked out again as prescribed by the law, while hygiene violations occurred as cows were left to bleed out amid a mix of body fluids and faeces for several minutes.
The activists welcomed the mayor's decision to halt the abattoir's operations, but said it was regrettable action was taken only in the wake of the media furore, given that the town is responsible for the daily running of the public facility.
L214 co-founder L214 also urged the viewers to give up meat describing all slaughterhouses as "places of violent death and distress for animals".