French satirical magazine Charlie Hebdo may face legal action for inciting hate crimes after publishing cartoons about the drowning death of Syrian toddler Aylan Kurdi on the cover of its latest issue (12 September), sparking outrage on social media. The criticism comes eight months after terrorists attacked the magazine's offices in Paris, leaving 12 dead, in retaliation for its controversial illustrations of the prophet Muhammad.
One of the magazine's latest cartoons shows the drowned toddler and a sign with the McDonald's clown reading: "Promotion: Two children for the price of one." Another message says: "Welcome immigrants, so close to his goal."
A second cartoon depicts a man resembling Jesus walking on water next to a partially submerged child, alongside the caption: "Proof that Europe is Christian. Christians walk on water - Muslim children sink."
Peter Herbert, a leading human rights barrister and chair of the Society of Black Lawyers, said in a Tweet that the organisation would consider reporting Charlie Hebdo's actions as "an incitement to hate crime & persecution before the International Criminal Court". Herbert added: "Charlie Hebdo is a purely racist, xenophobic and ideologically bankrupt publication that represents the moral decay of France."
Maajid Nawaz, founder of the think-tank Quilliam criticised the "hysteria around new Charlie Hebdo cartoons about Aylan Kurdi (and the fact people were) failing to get satire." Nawaz added: "Taste is always in the eye of the beholder. But these cartoons are a damning indictment on our anti-refugee sentiment. The McDonald's image is a searing critique of heartless European consumerism in the face of one of the worst human tragedies of our times."
Nawaz, who was 16 he joined a radical Islamist group, said he believed the image about Christians walking on water while Muslims drown "is (so obviously) critiquing hypocritical European Christian 'love'". He added: "Fellow Muslims, not everything and everyone are against us, every time. But if we keep assuming they are by reacting like this, they will surely become so."
Journalist Sunny Hundal, a lecturer on digital journalism at Kingston University, said the drawing was not intended to mock the dead Syrian child: "It does not do that! It is actually mocking Europeans and their attitudes towards Muslims. It is annoying to see people claim the opposite.
"I would be outraged about a joke about the dead Syrian child too, but this is NOT what Charlie Hebdo is doing. Even on previous occasions people misunderstood the meaning of its cartoons and said they were racist, when they were mocking neo-Nazi attitudes," Hundal wrote in a statement.
"Is it OK to use the picture to make the point? Well, I would say plenty of people used that picture to say that Europeans were letting Muslims die in Syria... why is it wrong when a French magazine says the same?"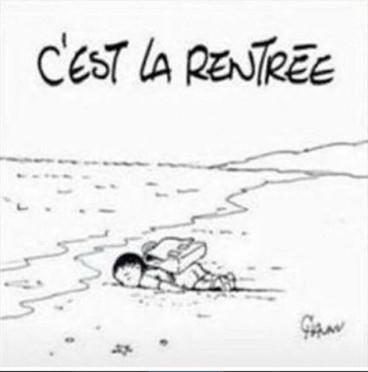 Facing death threats for a drawing
France cartoonist Emmanuel Chaunu is facing death threats for publishing a drawing of the toddler wearing a school bag below the caption "Back to school" on his Facebook page.
The drawing was subsequently published by the daily L'Union, which has also come under attack - with users confusing the cartoonist for a Charlie Hebdo one.
"They are really looking to be shot at a second time," one person tweeted, while another wrote "Charlie Hebdo I think death doesn't scare you do you want that other crazy (people) like the kouachi come back?"
Chaunu defended his drawing, telling L'Union: "This is not a cartoon or a humorous drawing. This is a pencil drawing. This child will never go to school. It's a tribute. I drew on the picture."
Chaunu highlighted how the 7 January Charlie Hebdo attack had left a mark, "and not necessarily in the defence of cartoonists". "Reactions are much more passionate since these events, people comment without any analysis of the images. I've already done some tough drawings, but this photo (of the toddler), people have appropriated it," he told the daily Liberation.
Many have come to support Chaunu. A Facebook user from Basse-Normandie, Colette Leconte-Philippe, said: "With no bad pun intended, this drawing sinks our hearts".
Noëlle Sandoz, another Facebook user, also commented: "This drawing has an infinite strength. The photo shocks but also contributes to the trivialisation of the event. While, at the same time, this drawing provokes an inward reflection and doubts. Congratulations Emmanuel. That is what it means to be a press cartoonist!"