Former International Monetary Fund head Dominique Strauss-Kahn (DSK) has been dismissed of pimping charges in a trial where 14 people stood accused of sex offences including the alleged procuring of prostitutes out of Lille's Hotel Carlton.
Dubbed the "Carlton Affair" the trial, which exposed lurid details of champagne-fuelled orgies and prostitution allegedly involving the man once tipped to become France's president, collapsed.
"He only benefited, like others, of group sexual meetings," presiding judge Bernard Lemaire read out in Lille's courthouse on Friday (12 June). Lemaire said that 35 text messages sent by Strauss-Kahn in 22 months did not make him an "organiser".
Wearing a dark blue jacket at the courthouse in Lille, Strauss-Kahn, who had been described during the trial as the "king of the party", appeared as relaxed as he was during his first court hearing in February.
"[Strauss-Kahn] had a client behaviour, non-reprehensible by the criminal law," the judge said.
The former prostitutes, who had given their statements in February, were not present in Lille on Friday to hear the 147 pages-long judgment.
A string of acquittals
Along with DSK, Carlton Hotel owner Hervé Franchois was also acquitted, despite the prosecutor's call for an eight-month sentence.
Former head of communications for the Carlton, René Kojfer, meanwhile, was handed a 12-month suspended prison term for pimping charges – less than the 15-months and €2,500 (£1,800) fine initially requested by the prosecutor for group pimping.
Kojfer has been accused of negotiating prices, and was said to be the "organiser" of an orgy in an Italian restaurant in the French town of Lambersart.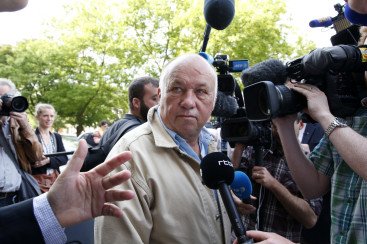 Dominique Alderweireld, known as Dodo la Saumure (Dodo the Brine or Pimp), was acquitted along with his wife, Bea.
Lawyer Emmanuel Riglaire, who was facing a three-month suspended prison sentence and €5,000 fine for allegedly having agreed to have fees paid in kind, was also acquitted.
'Bunga bunga-style' parties
DSK has always refuted accusations that four of his associates, including two businessmen, police commissioner Jean-Christophe Lagarde and the son of a local politician, arranged 15 "bunga bunga-style" parties for his benefit in Paris, Lille, Belgium and Washington.
The prosecutor in the case called for him to be acquitted, saying there was insufficient proof he had been at the heart of a prostitution ring.
"Did Dominique Strauss-Kahn pay prostitutes? The answer is no. Did he pimp prostitutes for others? The answer is no," prosecutor Frederic Fevre told a court in Lille on 18 February, before requesting Strauss-Kahn's acquittal.
The 66-year old said he did not know that the women were being paid for sex. Four sex workers dropped their complaints against him mid-February.
Using prostitutes is not illegal in France but investigators suspected that the prostitutes with whom Strauss-Kahn allegedly had sex were paid for using company funds.
New York case dropped
The case was launched after DSK settled a separate civil case in New York with a hotel maid who accused him of attempted rape in May 2011.
He was forced to resign from the IMF and abandon hopes to run for president in 2012, after Nafissatou Diallo, a 33-year old chambermaid at New York's Sofitel hotel, claimed DSK emerged naked from the bathroom of his suite as she was tidying it and raped her.
Criminal charges were later dropped but Diallo maintained a civil lawsuit which was settled in 2012 for an undisclosed sum.