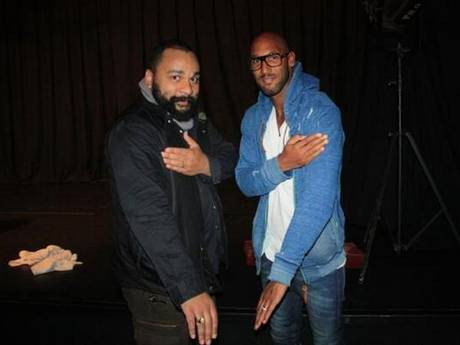 Controversial French comedian Dieudonné, who created the anti-Semitic quenelle hand gesture copied by footballer Nicholas Anelka, has reportedly been taken back into custody after a bailiff brought a complaint for violence against him.
The comedian allegedly fired a rubber bullet at two bailiffs who tried to serve a writ on him for non-payment of fines or taxes.
The bailiffs had appeared at his home in St-Lubin-de-La-Hay near Dreux. One of them said that as he was leaving, an unidentified person fired a "flash ball" at his car.
Dieudonné denied that he was in the property but the bailiff insisted that he saw both him and his wife Noemie Montagne.
Gendarmes searched the house and found a flash ball gun. Authorities started an investigation into "person unknown" for "threatening the safety of a public official in the course of his duty".
The 47-year-old comic was prevented from performing a show in the city of Nantes by France's top court.
Earlier, a court in Nantes said it did not regard the show, entitled The Wall, as having "an attack on human dignity as its main object".
But the Council of State upheld the ban on the show.
Dieudonné, whose full name is Dieudonné M'bala M'bala, has six convictions for hate against Jews and has to pay €65,000 (£53,000) in related fines.
The son of a Cameroonian father and a Breton mother, Dieudonné remains very popular in France, especially among the young and migrant communities. His shows are often sold out.
His trademark gesture, known as la Quenelle and described by his critics as an inverted Nazi salute, has been emulated by scores of people from Anelka and NBA star Tony Parker to the founder of France's far-right National Front party, Jean-Marie Le Pen.