France's former Prime Minister, socialist Manuel Valls, has said he will vote for centrist candidate Emmanuel Macron over the contender from his own party, Benoit Hamon, to prevent Marine Le Pen from winning the presidential election.
Macron is currently leading in the opinion polls, while far-right candidate Le Pen is in second place. Meanwhile socialist candidate Hamon is polling in fifth place and not expected to progress past the first round. Hamon beat Valls in the race for the Socialist candidacy.
"I'm not taking any risks," Valls told French broadcaster BFM TV. "I will vote for Emmanuel Macron." He is the biggest socialist name to withdraw support for his party's official nominee and back another candidate instead.
Valls stressed that although he will vote for Macron, he will not campaign for his progressive movement En Marche! "I have nothing to negotiate and am not asking for anything. I'm not joining his camp," he told BFM TV.
The endorsement is a mixed blessing for Macron who has tried to cast himself as a candidate bridging the divide between left and right-wing politics, rather than as a nominee for the unpopular Socialist party.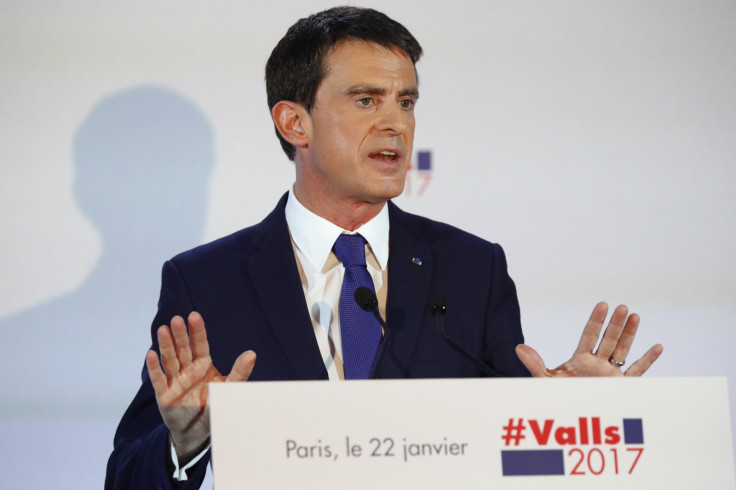 When asked at a news conference about Valls' promise to back his candidacy, Macron said: "I'm suspicious of the hidden agenda of politicians."
The rivalry between Valls and Hamon predates their presidential campaigns. Hamon signed a motion of no-confidence against Valls' government last year, when a controversial labour reform by the former Prime Minister left the Socialist Party divided.
After Valls announced his support for Macron, Hamon hit back. "This sort of soap opera is meant to weaken me," he told France 2 TV. "I'm running my campaign by talking about the French's daily life, not Valls's life."