President Hollande holds annual press conference after love affair claims
Closer magazine reported Hollande has a secret liaison with actress Julie Gayet
Hollande's popularity has risen among women electorate since scandal broke
Frist Lady Valérie Trierweiler remains in hospital after emotional shock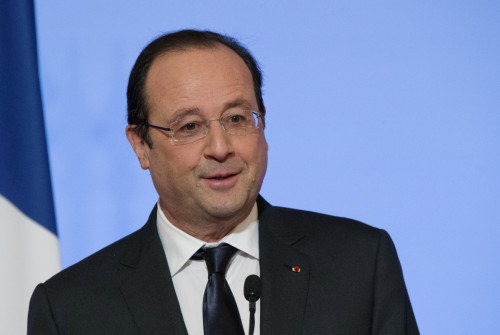 French President Francois Hollande addressed the public for the first time since claims he has a secret love affair were published by a tabloid magazine.
Hollande, 59, held an annual press conference to discuss policy and the economy at the Elysee presidential palace in Paris.
The Elysee Palace tweeted:
Plans to tackle low growth and unemployment were high on the agenda before reports that Hollande has been dating actress Julie Gayet, 41, unbeknown to his official partner, first lady Valérie Trierweiler, broke last week.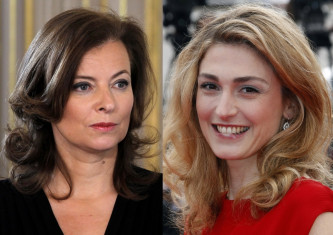 The love scandal was likely to overshadow all other issues. About 600 French and foreign journalists were credited.
According to an opinion poll, 77% of French voters believe the President's love life is a private matter.
However the First Lady is a public figure and has a private office and personal staff paid with taxpayers' money.
Sources close to Trierweiler told Le Parisien newspaper that she was the first one to want her position clarified.
Meanwhile the 48-year-old former journalist remains at the Paris Hospital where she was admitted "for rest and some tests" after Closer magazine printed photos purportedly showing the president and the Gayet arriving separately at the same time at a flat not far from the Elysee.
"The doctors will determine when she can be dismissed from hospital. She needs to recover from the shock she has suffered," one of Trierweiler's aides told Europe 1 radio.
Follow IBTimes UK live coverage of the press conference:
17.50 GMT Our coverage of President Hollande's press conference ends here.
Hollande has admitted he and first lady Valérie Trierweiler are experiencing difficult moments but declined to comment further on claims he has been secretly dating actress Julie Gayet.
To a journalist who asked if Trierweiler was still the first lady, Hollande replied:
"Everyone can go through turbulent times in their private life. It's our case; they are tough moments. But I have one principle: private affaires should be dealt with privately."
17.45 GMT Hollande refused to answer two questions posed by the same journalist about his alleged secret love affair.
A reporter asked him how is Valérie Trierweiler, and if a public figure such as the president is entitled to a private life.
"She is recovering, and I will make no further comment," Hollande said.
16.53 GMT Hollande was asked about comments on the love scandal by opposition MP Christian Jacob. Jacob said that the fact that Hollande was followed by a paparazzo for a long period without anyone noticing underscored poor security. Hollande said: "My security is ensured everywhere and at all times."
16.45 GMT Hollande was asked whether he plans to change privacy laws after Closer published claims of his love affair. "I'm against changing laws for personal convenience. However my indignation is total," he said. "It's a question of principle".
16.23 GMT Hollande said he will not take further questions on claims he has been dating Julie Gayet. The president hinted he will address the issue before an official visit to the US next month. He was asked whether his official partner, Valérie Trierweiler, is still the first lady.
16.22 GMT First question on claims of his love affair with actress Julie Gayet. President says that everyone can go through turbulent times during his private life. "I have one principle: that private affaires are to be dealt with privately. This is neither the place nor the time to do so," Hollande said.
16.17 GMT Hollande is now taking questions.
16.16 GMT Hollande said his thoughts are with French hostages of militant groups in Syria and Africa.
16.13 GMT Hollande is now defending the European Union, the euro and France's membership in the union.
16.10 GMT Hollande said France will continue in its international peace efforts to uphold the values of the Republic. The president praised France military operation in Mali – we pushed out jihadist – and in Central African Republic (CAR). France has no interest in choosing leaders for Central Africa. Those times are over, Hollande said. He says Europe is to have a larger role in CAR now on.
16.03 GMT Hollande said anti-Semitism and racism must be banished. He defended Interior minister Manuel Valls over instructions to ban a show by controversial comedian Dieudonné due to its anti-Semitic content. Hollande didn't name Dieudonné.
16.00 GMT Hollande announced a Strategic Council for Spending will be set up to help cut public spending. He said France has to save up to €50bn in the coming years.
15.53 GMT We must reduce public spending to reduce public debt, lower taxes and realise the 'pact of responsibility', the Socialist president said.
15.51 GMT Channel 4 foreign affairs correspondent Jonathan Rugman tweeted:
15.48 GMT Hollande said France has to re-launch its production. The president said companies need more visibility and transparency; and red tape and regulations have to be cut back and simplified.
15.43 GMT Hollande started his speech on the state of the economy without making any reference to the love affair scandal. "I have a deep conviction: that if France wants to keep control of its faith, it has to find again its economic strength," Hollande said.
15.40 GMT President Hollande has arrived.
15.30 GMT France's government ministers have taken their seats. Everything is ready.
15.25 GMT: Five minutes to go. Meanwhile the chief whip of the main opposition party, the UMP, has attacked Hollande over the scandal.
"The private life of the president of the republic is not for us to judge. However security is an issue," said Christian Jacob. "How is it possible that the president was followed for a long period without anyone noticing? Is he able to decide his own level of protection? It's incompetence."
15.03 GMT: The conference is due to start in half hour. The Elysee Palace tweeted a photo of Hollande's reading desk. Some 600 journalist are expected to attend.