UFC commentator and analyst Joe Rogan believes heavyweight contender Francis Ngannou should join a top class gym like American Kickboxing Academy (AKA).
Ngannou (11-2) took on heavyweight champion Stipe Miocic (18-2) at UFC 220 last month in what was one of the promotion's most highly-anticipated bouts in a while.
"The Predator" was fresh off his devastating first-round knockout of Alistair Overeem at UFC 218 in early December and was hyped up as the next big thing in MMA, with many predicting a new champion.
However, he would be outclassed by Miocic who took the fight to the ground and delivered a beating on the tired and powerless Ngannou who would eventually suffer his first UFC loss via a crushing 50-44 unanimous decision.
The 31-year-old notably did not seem to have a clue on what to do with Miocic on top of him and had his ground game exposed as Rogan reflected on the fight.
"He tried to take Stipe out in the first round. His thought was that Stipe's not going to be able to survive," Rogan said in a recent edition of his podcast. "[But] he doesn't know how to wrestle that well.
"Stipe was a very good college wrestler and obviously a bad motherf****r. He took some hard shots too but that's the thing about Stipe. It's not just that he knows how to fight, he's just f*****g tough.
"I thought it's very possible Francis could win this fight, he's just so scary. I've never seen anyone that's so terrifying with one punch."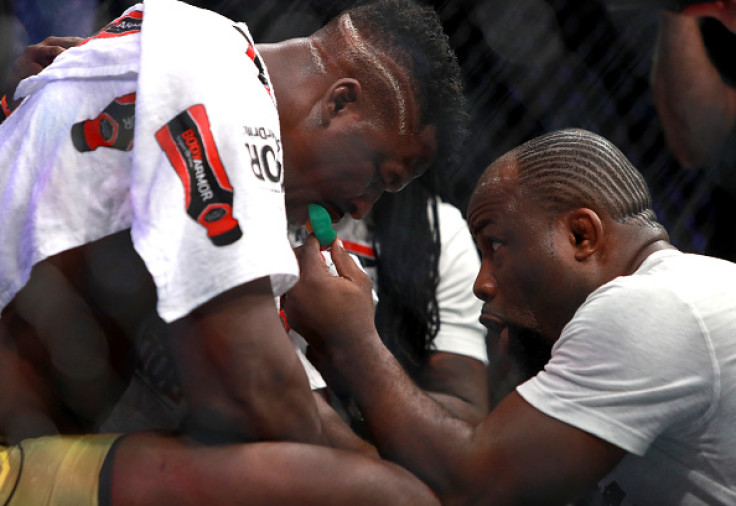 Ngannou currently trains at the MMA Factory in Paris but Rogan feels he would be better off at an elite gym with top class sparring partners to help with his ground game.
San Jose, California's AKA, which houses the likes of Daniel Cormier, Khabib Nurmagomedov, Luke Rockhold and Cain Velasquez, was one gym he had in mind.
"You watch the training camps with Daniel Cormier, Luke Rockhold and Cain Velasquez, there's a reason why those guys are so goddamn good because iron sharpens iron," Rogan added.
"Those guys are in there, world champions going at it with each other on a daily basis and because of that, that's what turned them into those f*****g monsters that they are today.
"Francis is just a physical freak but if he was in that camp? Holy s**t. One camp in San Jose has some of the best fighters that have ever done the sport."