Frank Lampard redefined the meaning of what constitutes a club legend, a title branded about as often as contracts for new managers are at Chelsea. Having scored twice against Aston Villa to book the Blues' place in next season's Champions League and to eclipse Bobby Tambling's all-time scoring record with the west Londoners, Lampard has installed himself as the heir to the throne as king of Stamford Bridge.
Part of a squad which has guided Chelsea through the most successful period in their history, including a scorer of the winning goals which delivered a first league title in half a century, a winning goal in the 2009 FA Cup final, a scorer in two Champions League finals, once in defeat to Manchester United, the other in a shoot-out victory over Bayern Munich, set to be the club's top scorer for a fifth season and a scorer of 13 or more goals in 10 consecutive seasons; Lampard's record suggests nothing other than legend.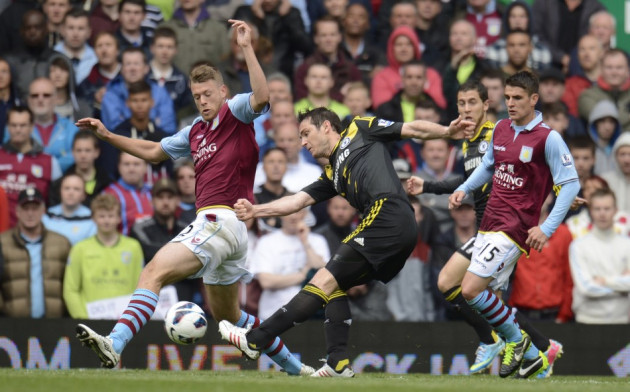 And now as Chelsea's highest ever goalscorer, Lampard has an undeniable claim to be the club's greatest ever player. Without the style of Gianfranco Zola, yet more substance, devoid of the flamboyance of Didier Drogba, more the drive; Lamprd is among the most complete players of his generation.
But such is football's tendency to shoot itself in the foot that Lampard's attempts to claim the last remaining record as the club's highest appearance maker appears destined to avoid him. Chelsea should be applauded for not offering sentimentality, but it would be more understandable had they denied that opportunity to anyone bar the fit-as-a-fiddle Lampard.
The England international appears destined to miss out from the start against Benfica in the Europa League final in Amsterdam and on an extension of his contract unless Jose Mourinho can exert his influence on proceedings upon his return to Stamford Bridge.
And that fact provides some reality to the story surrounding Lampard. Amid all the awe-inspiring stats and numerous silverware, his career at Chelsea is set to meet a crushing, abrupt end. Don't expect a wink of complaint, he has a reputation to upkeep.