Just as the dust began to settle on the post-Brexit chaos, the murmur mill went into overdrive on how London's position as the leading global financial hub might be under threat from European rivals.
At present, UK-based banks can sell services freely across the European Union under the European banking passport system, considered the most significant feature of the single market for financial firms. This is now likely to be the subject of Brexit negotiations, spooking the London-based banks.
Hence, rivals Amsterdam, Dublin, Madrid and Barcelona were quick to launch their pitches to banks. Paris went one step further by vocally rolling out the red carpet. However, Frankfurt - Germany's finance hub, and home of the European Central Bank and Deutsche Boerse - talked up its own prospects via a lot friendlier pitch.
Frankfurt Main Finance, the city's lobby group believes attracting businesses and banks to its patch does not necessarily involve getting into a first fight with London.
Hubertus Vath, the lobby group's managing director, believes Frankfurt is looking to complement rather than supplant London as a financial capital and share in the spoils.
"London will maintain its position as the central financial centre. We hope that the Financial Centre Frankfurt will become the bridge between London and the euro zone."
He points to both the presence of the ECB and the Deutsche Boerse, which is in merger talks with the London Stock Exchange, as positive points in Frankfurt's favour.
Furthermore, Frankfurt is one of those few European cities where businesses, policymakers and even the stock exchange itself embrace English as the language of commerce, something that Frankfurt Main Finance believes would be very appealing to US investment banks that it hopes to attract, along with Swiss and German banks with a large London workforce.
The city has a world class transport network while its airport is a global aviation hub which serves a super-connector terminal for flights between the Americas and Asia. Queries by IBTimes UK suggest rents for two-bedroom apartments close to central Frankfurt average between €1,100-€1,300 (£900-1100).
Additionally, letting office space in Frankfurt would 10-15% cheaper per square foot compared to London, according to data provided by Knight Frank Estate Agents. The only problem is that Frankfurt is a provincial town, functional not chique, and in no way geared up to cope with a mass influx of bankers, or anyone else for that matter, looking to escape a Brexit-burdened London.
For instance, as of 31 December, 2015, data indicates that 559,800 people were working in the City of London and Canary Wharf. That is more than three quarters of Frankfurt's entire population, according to the last available census data from Germany.
Chris Bell, head of European investment at Knight Frank, said: "Should there be an increase in calls on commercial property, availability would become a major issue. This would subsequently start reflecting in the prices."
"We've had quite a few headlines about financial institutions eyeing office space in Frankfurt, but my direct interaction with some of the market players suggests people remain in wait and see mode."
Bell anticipates that some banks would move small chunks of their workforce, but sees no exodus on the horizon in Frankfurt's direction unless "Brexit negotiations go spectacularly bad."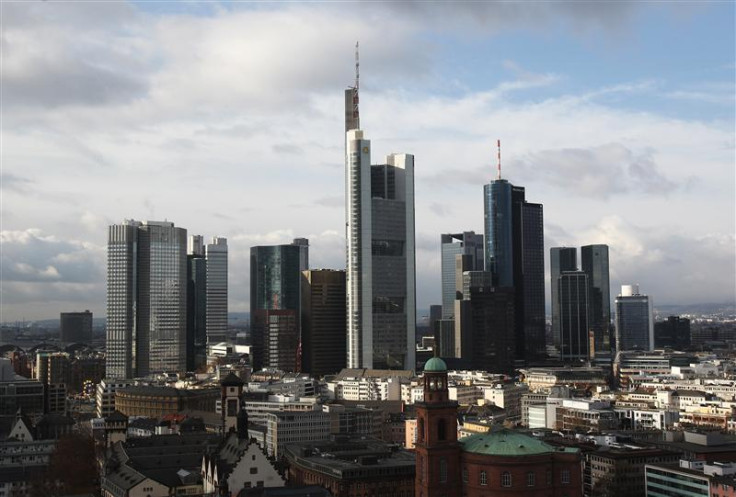 Neither moving professionals nor actually convincing those used to a life in London to pack their bags would be easy, senior bankers say, a fact confirmed by property market commentators and industry surveys.
London tops the latest Global Financial Centres Index (GFCI), which ranks competitiveness within the sector. It is followed by New York and Singapore and its nearest European rival – Zurich – comes in sixth place
The Swiss financial hub is not in the EU either. It too is involved in Switzerland's wrangles with the EU, after the country voted to end its freedom of labour agreement under European Economic Area auspices with the bloc earlier this year.
By contrast, Frankfurt is ranked 18th, and Dublin, Paris and Amsterdam languish in 29th, 32nd and 34th places respectively on the GFCI.
Bell of Knight Frank added: "Work / life balance that London offers is right up there with the best. The financial services sector values talent. If valued employees indicate their unwillingness to relocate, then that's an issue the employer is going to look very, very carefully at.
"This factors into corporate thinking. You can't draw plans on the hoof and expect that thousands of your employees would go with it."
Mindful of this, and uncertain of how Brexit talks might pan out, on 7 July, major global investment banks said they would work towards helping London maintain its status as a leading global centre for finance in a joint statement with then chancellor George Osborne.
That does not mean EU rivals would give up. Frankfurt's subtle approach is more than likely to find a few takers to begin with, and a few more if Brexit talks turn sour.