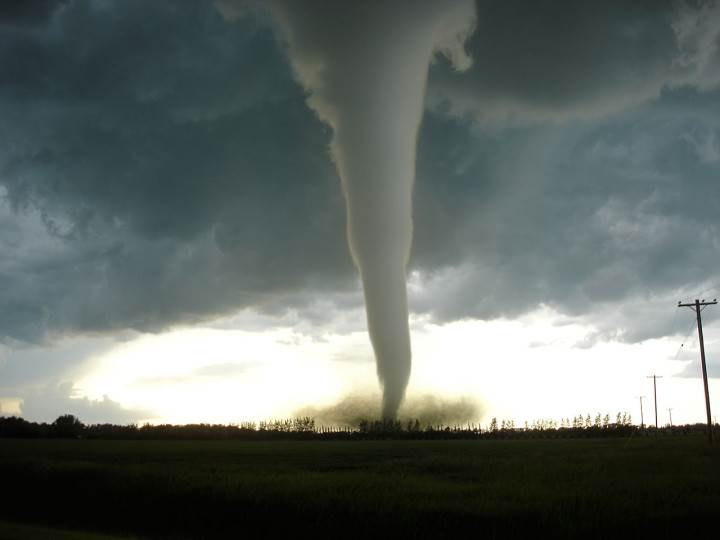 A freak tornado hit the Leicestershire town of Coalville this morning, as temperatures dropped throughout the country following the warmest Halloween on record.
The tornado struck at 7am, only a day after the warmest Halloween on record.
Roof tiles came crashing down onto the street, damaging cars, and debris was sent flying through the air.
The windows of several buildings were shattered, and part of a roof of a business in the Belvoir shopping centre was blown off.
Commenting on the freak weather, a Met Office spokesman said: "The setup was conducive to tornadic activity and we have had some reliable reports today."
Resident Vincent Bates, 64, said, told MailOnline: "I woke up with a start and heard this loud rumbling followed by a bang.
"At first I thought it was a huge lorry but when I opened my curtains and looked out of my window I couldn't believe my eyes. There was a wheelie bin flying past and down the street, about 10 feet up in the air.
"There were roof tiles crashing down into the street and landing on cars and debris flying everywhere.
"It felt like a tornado. The whole thing can't have lasted more than two minutes before everything went dead quiet.
"I had a wander around the town and there is debris lying across a square mile area. A house across the road from me has half its roof missing. It was incredible, I've never seen anything like it."
Another resident, Kathryn Crick, said: "I woke up to this terrific rumbling and whirring sound. The windows were shaking violently and I instinctively jumped into the centre of the bedroom. I honestly thought it was an earthquake."
"My next door neighbour's roof tiles came crashing down into the gardens below and a trampoline was lifted up and thrown into a fence."
The Met Office has predicted that temperatures will drop in November after an unseasonably warm October, and could be as low as -3°C by Bonfire Night.