Free Wi-Fi is coming to some of London's busiest tourist hotspots for the Olympic games, with O2 offering the service from today.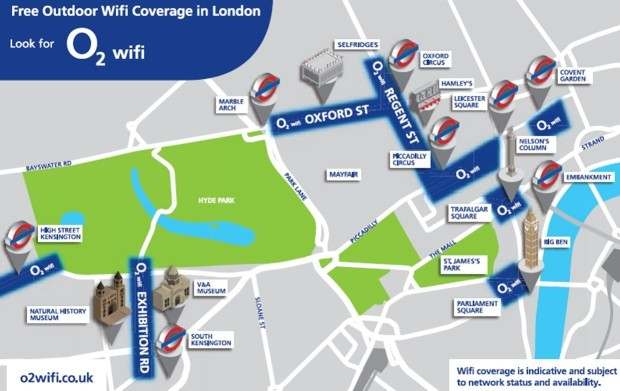 Areas such as Leicester Square, Piccadilly Circus, Trafalgar Square and Oxford Street will be covered by the free Wi-Fi coverage, and users only have to log in once to stay connected everywhere.
O2 said: "Running at no cost to the council or the taxpayer, the scheme enables millions of people living in or visiting the capital to enjoy fast, free, reliable Wi-Fi whilst out and about.
"O2 Wi-Fi is free for everyone, regardless of network or broadband provider and once registered, customers will be automatically connected each time they enter a coverage area."
The full network will cover Parliament Square, Trafalgar Square, Oxford Street, Regent Street, Leicester Square, Piccadilly, High Street Kensington and Exhibition Road by the end of July.
Daily commuters are expected to increase by 13 percent during the Olympics and Paralympics, and with 69 percent of Westminster residents owning a smartphones - much higher than the 43 percent UK average - London is the ideal location for widespread free Wi-Fi.
Last month, Virgin Media brought free Wi-Fi to stations on London's Underground network which will remain free to use for all commuters until the end of the Olympics.
Mayor of London Boris Johnson said: "With millions of extra people coming to town for the Games, we want to ensure we showcase the capital as the best city in the world to work and visit, and the addition of free Wi-Fi to some of our most popular landmarks is crucial in helping to maintain that reputation."
Content on the homepage will be automatically updated depending on the where in London the users is, while the department store House of Fraser will be the first exclusive advertiser across the Wi-Fi network.
Managing director of O2 Wi-Fi, Gavin Franks, said: "We are proud to announce that today, we can bring O2 Wi-Fi to some of the busiest streets and squares of central London.
"We are now providing Londoners and visitors alike with fast, free, reliable Wi-Fi when visiting some of the busiest areas in Westminster and Kensington & Chelsea."