Since the outbreak of a renewed Gaza crisis on 8 July and the onset of the IDF's Operation Protective Edge, a number of influential figures have thrown their support behind Israel's right to defend itself, or used their public standing to advocate the emancipation of the Palestinian people.
While rockets and missiles continued to rain down on Israeli and Palestinian civilian areas, comedian Bill Maher compared dealing with Hamas to handling "a crazy women who's trying to kill" you, while British footballer Joey Barton waded into the debate with hashtags such as #StopKillingChildrenInGaza and #IStandForGaza.
Yet the social media handle that is truly garnering traction from the masses in this divisive PR war is #FreePalestine.
Zayn Malik, one-fifth of the biggest boyband in the world, One Direction, tweeted the controversial hashtag in support of the Palestinian people while Rihanna, Houston Rockets' NBA star Dwight Howard and England cricketer Moeen Ali were all reprimanded for tweeting or wearing the 'Free Palestine' message.
But what does 'Free Palestine' really mean? What 'Palestine' are these celebrities, as well as politicians and ordinary members of the public, referring to, if they are indeed aware of the context of the situation at all?
'Palestine' could simply refer to the territories of Gaza and the occupied West Bank as we know them today. It could also allude to a Palestine defined by the borders in place before the United Nation's 1947 partition plan, or the borders following the 1967 Six-Day War.
By 'freeing' Palestine, are these high-profile names searching for an end to the Israeli offensive which has claimed over 1,000 Palestinian lives? The removal of a Hamas group which continues to incur Israel's ire? An end to the blockade of Gaza? A solution to the occupation of both Palestinian territories?* The drawback of the contentious West Bank settlements? The destruction of the Israel Zionist state completely, replaced by Palestinian control of the state and government? Or a combination of all of these scenarios?
We asked representatives of both sides to offer their take on the hashtag while opening up the debate to the self-governing Twittersphere.
'The homeland of my imagination will become real'
Perhaps the most powerful response came from Shahd Abusalama, an activist and journalist from Gaza, now living in Turkey, who writes for IBTimes UK.
"A liberated Palestine means that my imaginative homeland, which my grandmother made me always long for with her nostalgic memories, will not be a matter of imagination. It means that I will return to my origional village of Beit-Jerja from which my grandparents were ethnically cleansed, and harvest the crops of citrus and olive trees that they left behind. It means that I will not be treated by Israel as a demographic threat to their Jewish-only entity.
"A liberated Palestine means that Israeli jails, which my father calls "graves for the living" after he was imprisoned there as a political detainee for 15 years, will be emptied. A free Palestine means that I will be able to move freely within Palestine and outside it without being humiliated and abused when crossing between military checkpoints, borders or airports. A free Palestine means that I will no longer feel that Jerusalem is too far despite it being just half an hour away from where I live in the besieged Gaza Strip.
"The freedom of Palestinian land and humanity makes Palestine free."
'An intimidating slogan'
Yet for Eylon Aslan-Levy, Chairman of the National Council of the Union of Jewish Students and a blogger for the Times of Israel, that the term, in its most literal sense, could be viewed as a threat to the Jewish state and should instead complement a free and prosperous Israel.
"'Free Palestine' can be an intimidating slogan, because it is often heard alongside 'From the river to the sea, Palestine will be free': a chant that calls for the elimination of Israel," he said. "Most Jews would be happy to see a free Palestine, but next to a free Israel -- not instead of it."
'Free Palestine, F*** the Zionists, F*** the Jews'
Abuse shouted at a rabbi in north London.
'The end of Apartheid'
Prominent journalist and activist of Palestinian rights, Ben White, concludes that the term represents the desire of the Palestinian people to achieve a genuine democracy and break free of what some believe is an apartheid system.
"'Free Palestine' means an end to the violent displacement, exclusion, and discrimination that Palestinians have faced, in various ways, since the ethnic cleansing of 1948. It means the implementation of the Palestinian people's rights, and replacing an apartheid system with a genuine democracy."
'Missed opportunities'
Richard Pater, the Israel-based director of the British Jewish lobby group Britain Israel Communications and Research Centre (BICOM), felt the term aroused thoughts of "missed opportunities" at peace with the Palestinian people, which he believed could still be reached through "serious, comprehensive and honest" dialogue.
"For me, #FreePalestine conjures up thoughts of missed opportunities. From Arafat's refusal in 2000 and the resulting violence, to 2008 when [Israeli] PM Olmert's far-reaching offer was ignored. It remains in Israel's interest to secure a free, stable and viable Palestinian state next door. To live in peace and dignity alongside a Jewish State."
'Free ordinary people from the bondage of slavery'
Advocacy Officer at the Jahalin Association in Jerusalem, Angela Godfrey-Goldstein, stated that the phrase means Palestinians would be able to live a normal life and, on the other hand, Israelis would be able to shape their own future by becoming open to new alternatives.
"Allow Palestinians to be free, to be a people, to live a normal life, no longer to be the slaves and sub-humans Israel demands they be, in the prison terms of its Occupation. That means for us Israelis no longer to create what we fear, but to take the time to think more deeply, more maturely, with more vision for the future."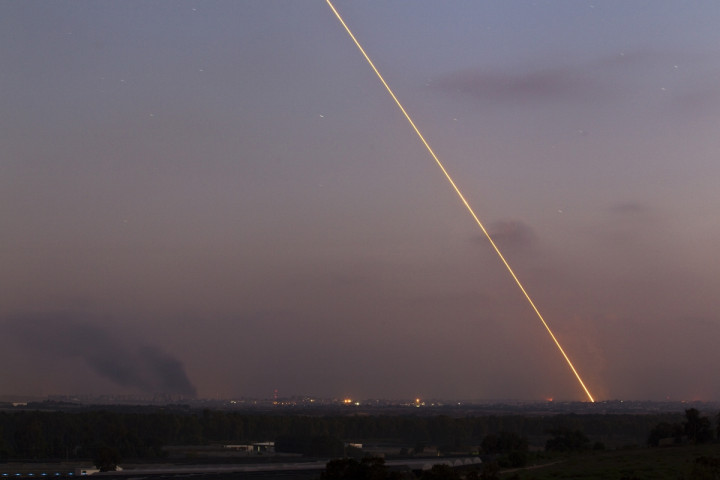 'The Elimination of Israel'
Ayotollah Ali Hosseini Khamenei, the current Supreme Leader of Iran, recently tweeted his nine key questions about the elimination of Israel. This is a flavour: "The ensuing government, which comes into power after a referendum among the original Palestinians, once settled will decide whether the (non-voting) non-Palestinian migrants who have immigrated to the country over the past years can continue living or should return to their home countries."
'Palestinians to be treated with tolerance - and attacks on Israel to end'
Twitter offered an intriguing cross-section of opinion. One user, a moderate left-winger from Tel Aviv, thought the phrase meant a lifting of the Palestinian people from Israeli occupation but, in return, Israel would be free from rocket and tunnel attacks - something which would not be guaranteed.
A Palestinian refugee in Indonesia argued that "#FreePalestine means I can be a real human, without racism, just tolerance," while another mused that, from the viewpoint of a Zionist, the freeing of Palestine would result in an "ethnic cleansing" of Jews from the region and an inevitable end to the Jewish state.
Two state-solution?
There was a clear discrepancy in the response to the solution of 'freeing' Palestine. A portion believed that the freedom of Palestine would constitute a "two-state solution" while others viewed the Palestinian future in a "federal nation, with a central, mixed government".
What was distinct, however, from the reaction of the activists, lobbyists and ordinary Jews, Israelis and Palestinians, was that the emergence of the #FreePalestine handle had demonstrated a desire for change.
Among the diverse answers lay a glimmer of hope that this change would arrive and that this most controversial of issues will one day be resolved.
When and how? Nobody knows. The path to peace will be long and arduous and, if the debate surrounding the #FreePalestine hashtag is anything to go by, one would not envy the task of those chosen to negotiate it.
*Israel removed its forces from the Gaza Strip in 2005, therefore the claim that it is occupying the Gaza Strip is disputed. However, Israel's control of Gaza's borders, territorial waters and airspace, international law - as supported by the United Nations - defines the territory as occupied.