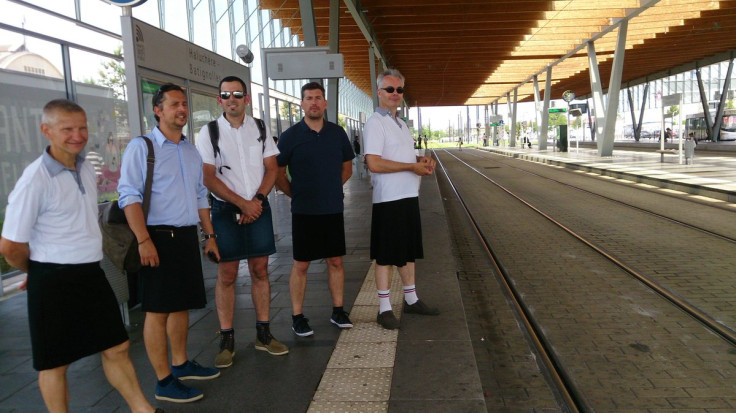 Bus drivers across France wore skirts to work this week to protest their company's 'no shorts' policy during the recent heatwave.
Their defiant act paid off as their union, CFDT Semitan, has changed its strict dress code, allowing drivers to wear shorts on the job from now on.
When the drivers initially approached their bosses to ask them for permission to wear shorts behind the wheel instead of their standard uniform, their request was refused. They decided to take matters into their hands and showed up to work on Tuesday (20 June) in skirts.
They described Semitan's strict clothing restrictions as "absurd" considering the "extreme heat" that engulfed western Europe this week.
The union announced on Twitter that it was changing its dress code policy to allow staff to wear black or brown shorts.
Semitan's president, Pascal Bolo, shared the news along with a caricature of a red-faced employee wearing a green skirt with the caption: "I knew there was but a small chance that I could get away with it."
Not only in France did employees protest against a 'shorts ban.' In the UK, call centre worker Joey Barge showed up at the office in a bright pink dress after he was sent home for wearing shorts.
His bold decision prompted his company to change its rules and to allow male employees to wear three-quarter-length shorts in "black, navy or beige."
Dozens of male pupils from the ISCA Academy in Exeter, south England, wore tartan skirts instead of trousers to school this week. The academy's head teacher, Aimee Mitchell, said the school would change its uniform policy to allow boys to wear shorts to school.
She said that "as summers are becoming hotter" shorts would be introduced as uniform next year.