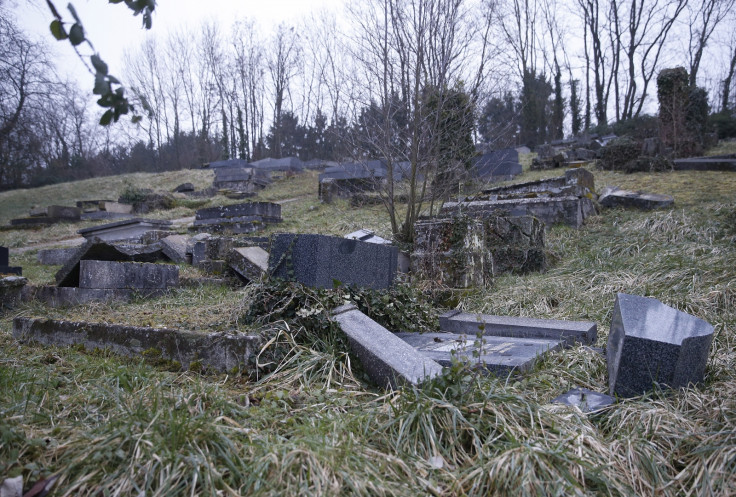 France's President Francois Hollande vowed to bring to justice anti-Semitic vandals who defaced hundreds of graves at a Jewish cemetery in what he described as an "odious and barbaric" attack against French values.
"France is determined to fight relentlessly against anti-Semitism and those who want to undermine the values of the Republic," Hollande said.
The graveyard in Sarre-Union, a small town near the German border, was left "in ruins" by unknown assailants who desecrated about 300 of the 400 tombs there, according to Jacques Wolff, a local Jewish community representative.
"All the graves were knocked over or crashed," he told Le Parisien, adding that a monument to Holocaust victims was also smashed.
French Interior Minister Bernard Cazeneuve said a criminal investigation into the incident has been launched.
It was not immediately clear who carried out the act of vandalism act on Saturday night (14 February).
Security sources told Le Figaro newspaper that no inscriptions were found, contrary to initial reports suggesting swastikas had been spray-painted on some graves.
The Sarre-Union cemetery has been targeted by vandals twice in the past, with dozens of graves being damaged in 1988 and 2001.
The latest incident came amid growing security concerns among French Jews in the wake of the Islamist shootings in Paris and other similar attacks across Europe.
Four Jewish shoppers were killed a month ago in the capital as self-styled Islamic State (Isis) militant Amedy Coulibaly, 32, stormed a kosher store near Porte de Vincennes.
At the weekend a gunman killed two people, including a 37-year-old Jewish security guard who was patrolling a Copenhagen synagogue, in a double shooting in the Danish capital.
Anti-Semitic attacks in France, which is home to Europe's largest Jewish community, more than doubled in 2014, with some 851 incident reported, according to the Council of Jewish Institutions in France (CRIF).