French authorities arrested or investigated almost 70 people on charges of justifying terrorism, as the government said it will implement a zero tolerance policy against hate speech, in the wake of Paris' three days of terror.
The crackdown came as the new defiant issue of satirical magazine Charlie Hebdo hit the newsstands with a cartoon of the Prophet Mohammed on the front cover, a week after the massacre of its cartoonists and other staff by Islamist extremists.
It also initiated a debate on freedom of speech, with some claiming the government was encroaching on the same right it strenuously defended in relation to Charlie Hebdo.
Among those arrested were four men who allegedly shouted "death to cops, death to Charlie Hebdo" outside a kosher bakery that was stormed by another gunman, Amedy Coulibaly, who killed four Jewish shoppers last week.
Controversial comedian Dieudonne, who has been often accused of anti-Semitism, was also held after he appeared to praise Coulibaly in a Facebook post.
A total of 69 people, including four minors, were facing justice for defending the attackers or making other racist or anti-Semitic comments, the Justice Ministry said.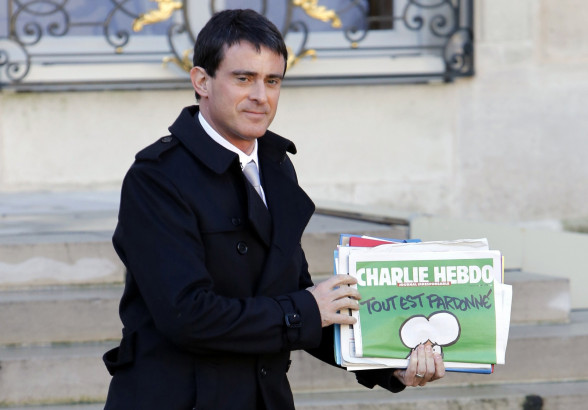 The government was united in rebuffing accusations of double standards on freedom of expression moved by some members of the Muslim community angered at Charlie Hebdo's cover.
Some argued that depictions of the Prophet should be banned by law, just as expressions of anti-Semitism and Holocaust denial are.
In a message to prosecutors and judges, the Justice Ministry said they were not to allow religion to be used to justify hate speech.
Prime Minister Manuel Valls, who was photographed with a copy of the satirical magazine, explained that freedom of speech left no backdoor open to anti-Semitism, racism and Holocaust denial.
"We have all heard 'Yes, I support Charlie, but,' the double standards, the 'Why defend liberty of expression here and not there?'" Education Minister Najat Vallaud Belkacem said. "These questions are intolerable above all when we hear them at school, which has the duty to teach our values."
Charlie Hebdo's issue featuring Mohammed holding the iconic "Je Suis Charlie" sign on the cover was sold out within minutes at several kiosks across France.