A public debate in France about a comedian who conceived the anti-Semitic downward Nazi salute copied by footballer Nicholas Anelka has escalated with government ministers joining the fray.
Interior minister Manuel Valls accused Dieudonné, a 47-year-old comic, who ironically began his career using comedy to fight racism, of attempting to fake bankruptcy to avoid paying tens of thousands of euros in fines for racist abuse.
"All the services of the state must be mobilised so that Dieudonné, who is trying to organise his bankruptcy to avoid paying fines, is obliged to pay them," Valls told Europe 1 radio.
Dieudonné has to pay €65,000 (£53,000) in fines over a spate of anti-Semitic remarks he started in 2006 when he compared Jews to slave traders.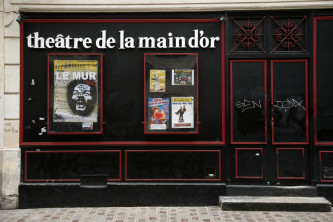 The son of a Cameroonian father and a Breton mother, Dieudonné remains very popular in France, especially among youths and migrant communities. His shows are often sold out.
His trademark gesture, known as la Quenelle and described by his critics as an inverted Nazi salute, has been emulated by scores of people from Anelka and NBA star Tony Parker to the founder of France' far-right National Front party, Jean-Marie Le Pen.
Dieudonné, whose full name is Dieudonné M'bala M'bala, runs his own theatre in Paris and the company that produces his shows has a turnover of almost €2m.
In 2012 he directed his first movie - L'Antisémite - which was part-funded by Iran. It failed to find a distributor in France.
According to Le Monde, authorities were unable to evaluate his wealth because he was not an employee nor a shareholder of the production company. The stakes in the firm are evenly divided between his wife and his mother.
"He hasn't paid anything of his fines and moreover he has also appealed for donation to pay them, which is illegal," Cindy Leoni, chair of the anti-racist NGO SOS-Racisme, told Le Monde.
Valls called for Dieudonné to be banned from the national stage after the comedian's latest racial abuse directed at a Jewish journalist Patrick Cohen.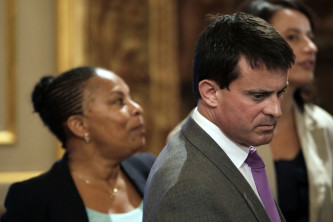 "When I hear him talking, I say to myself: Patrick Cohen, hmm... the gas chambers... what a shame," Dieudonné said.
The comedian, who started off his stage career in a duo with Jewish humourist Elie Semoun, has rebuffed accusations of anti-Semitism and claimed he was simply anti-Zionist and anti-establishment.
His supporters say that attempts to gag him undermine freedom of speech.
In a YouTube video which has been viewed by more than 1.5 million people, Dieudonné praised Anelka for using the Quenelle to celebrate a goal and claimed he was subsequently criticised because of the colour of his skin.
"You are France's Muhammad Ali," Dieudonné says.
The gesture was slammed as "sickening" by the president of the Jewish Congress of Europe.
Christiane Taubira, France's black justice minister, labelled the comedian a "pathetic buffoon" who exploited controversy and, she said, was a threat to democracy.
"[His] putrid provocations test society, its mental health, its ethical soundness, its vigilance. We must answer because democracy cannot find itself powerless when faced by perils that threaten it from the inside," Taubira wrote on the French version of the Huffington Post.
A defiant Dieudonné repeated the remark against Cohen from the stage of his theatre, the Théâtre de la Main d'or, in Paris.
The show was hit by a bomb scare but a police search came up empty.