A French music magazine has been branded "obscene" for putting a rock star who killed his girlfriend on the cover. The move has sparked debate about violence towards women in the country that has prompted the nation's First Lady Brigitte Macron to speak out.
Rock bible Les Inrockuptibles splashed with Bertrand Cantat, 53, who beat actress Marie Trintignant to death in 2003, on its cover last week.
In response France's Elle magazine put Trintignant on its cover along with a scathing editorial titled "Au nom de Marie" (In the name of Marie).
The furious debate over male abuse of women in France comes in the wake of the scandal embroiling Hollywood producer Harvey Weinstein.
President Emmanuel Macron said on Sunday (15 Ocober) that he would strip Harvey Weinstein of the prestigious Legion d'honneur award.
Mrs Macron also called on women to break their silence over sexual violence after attending Les Chatouilles (Tickling), a one-woman play by Andréa Bescond who recounts her own rape, at a Paris theatre.
She said: "That's enough. I think that all this [harassment] must stop very quickly. [Those who speak out] are very brave to do so. I urge them to break their silence."
Les Inrockuptibles' cover of Cantat coincides with a campaign asking women to share their experiences of sexual harassment and violence on social media under the hashtag #balancetonporc, meaning "expose your pig".
Sincere regrets
Elle magazine said Ms Trintignant's "face has become that of all the women victims of male violence".
It added: "It will take more than the obscene media of Bertrand Cantat ('Les Inrockuptibles' of October 11) to extinguish your flame."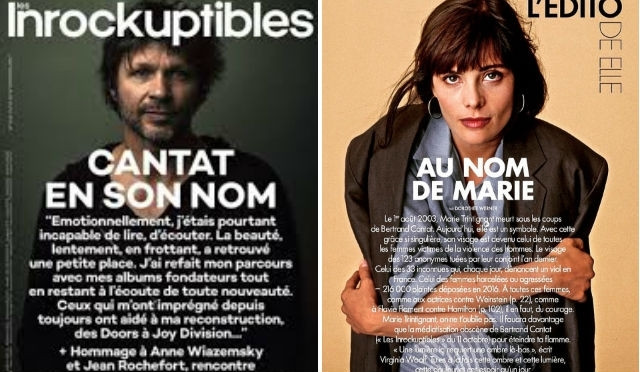 In response to the outcry Les Inrockuptibles' said its choice was "debatable", and expressed "sincere regrets" to "those who felt hurt".
But the rock magazine defended its position saying it had been covering Cantat since the 1980s when it followed his old band, Noir Desir.
It added: "In Les Inrockuptibles, we do journalism. It is our job, our passion. And journalism sometimes requires questioning the shadows, going beyond borders and evidences, whatever they may be."
Trintignant met her death following a fight with Cantat over a text message in a hotel in Vilnius, Lithuania in July 2003, where she had been shooting a film.
The movie star was battered 19 times over the head, which initially left her in a coma and ultimately killed her, aged 41, leaving behind two children.
During his trial, Cantat initially said her fatal head injuries were caused by hitting her head against a radiator but he was eventually convicted by a Lithuanian court of murder with indirect intent and was sentenced to eight years in prison.
Solo comeback
Cantat was released on parole in 2007 after serving half of his sentence, and eventually made a comeback with new band, Detroit, in 2013.
However, the release date of the band's first album in September 2013 had to be delayed because it clashed with International Day for the Elimination of Violence Against Women.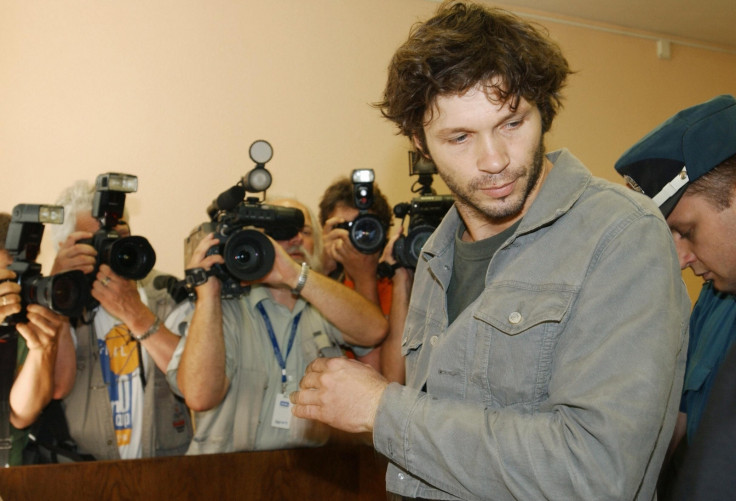 The music star's first solo album is due for release later this year.
Marie Trintignant's father is the veteran actor Jean-Louis Trintignant, the star of such European 1960s and 1970s classic movies as A Man and a Woman, Z and The Conformist.
The veteran actor has already expressed his outrage at Cantat's attempts to make a return to the music scene.
In 2011 he pulled out of the Avignon theatre festival after hearing his daughter's murderer had been booked to play two gigs at the same event.
At the time he told Le Figaro: "Why can't people understand that there's something terrible in his way of coming back as if nothing has happened."