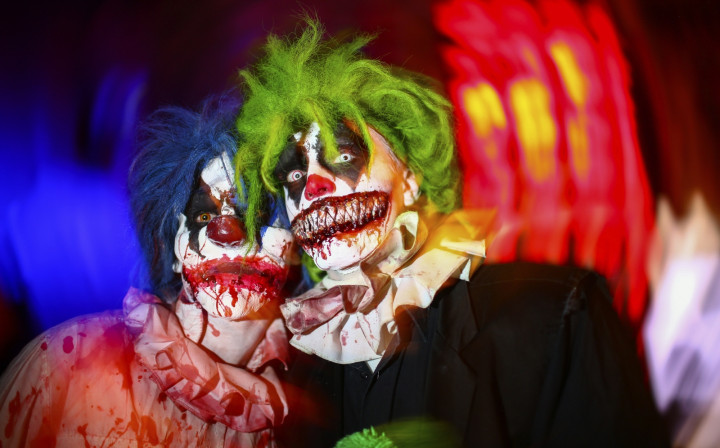 French police have arrested a teenager dressed as an evil clown and several anti-clown vigilantes, in the latest development of a bizarre craze that is spreading panic in the country.
Authorities in eastern Paris said they detained a 14-year-old wearing a black robe and white make-up who terrorised a local woman.
The boy and a plain-clothed accomplice allegedly tried to attack the woman with a plastic skeleton hand and a fake axe as she got out of her car in the suburb of Chelles.
The two fled after a motorist who witnessed the scene chased them down with a baseball bat.
Later, the 'clown' was eventually spotted by police and held. He told detectives his action was inspired by a similar prank he had seen on YouTube, Le Parisien newspaper reported.
Separately, two men aged 19 and 22 were arrested as they were roaming around Chilly-Mazarin, south of the capital, brandishing tear gas cans and heavy cables they allegedly planned to use as whips or bats.
The pair told police they were hunting down a clown who had attacked people in the area.
Another four teenage 'clown hunters' were taken in for questioning by police near Bordeaux.
The first few incidents related to the so-called 'evil clown' craze were reported in France earlier this month, after similar episodes in the US and Britain.
The social media-fuelled phenomenon and its all-French counter - the anti-clown vigilantism - have since alarmingly spread throughout the country, with dozens of evil clown sightings reported to police and online clown hunter groups drawing tens of thousands of members and likes on Facebook.
National police have been forced to issue two official statements on the matter in the last four days in an attempt to soothe the growing hysteria.
"Over the last few days new clown sightings have been reported, while many groups have been formed to hunt them," police said.
"[We] have received numerous reports of clowns frightening passers-by, but many are fanciful and from children."
Police urged all French people to behave reasonably, not sharing fake reports online, and reminded of the legal consequences that evil clowns and clown hunters might face.
"People who participate in this phenomenon may be accused of carrying a weapon, assault, violence and incitement to commit a crime or offence," they said.