Police fired tear gas to disperse demonstrators who had gathered in Place de la Republique in Paris to protest against police brutality.
According to police an estimated 7,000 to 7,500 people attended the march in central Paris on Sunday (19 March), chanting "no justice, no peace" and "emergency, emergency, police are killing with impunity".
More than a month since the case of Theo, a 22-year-old man with no criminal record who was allegedly raped with a police baton while in custody, first made the headlines.
Theo was granted 60-day medical leave after a hospital visit revealed "a longitudinal wound in the anal canal" and "a section of the sphincter muscle".
Ensuing protests demanding justice and fairer treatment from the police continue to gather momentum as more episodes of police brutality emerged.
Demonstrators marched behind a banner displaying the faces and the names of 13 victims of police brutality. One of the rally organisers, Amal Bentounsi, spoke about her brother's death. He was shot dead in the back by an officer who received a five-year suspended sentence.
Fatiha Bouras, who said she is the mother of a victim, told AFP there were "too many police killings – they have to stop". She added: "It's only Arabs and blacks who die".
Four policemen were detained in connection to Theo's abuse on 6 February. One of the four is charged with rape and other three are accused of voluntarily engaging in violence. Frederic Gabet, a lawyer for the officer charged with rape, argued that any injury inflicted was done accidentally.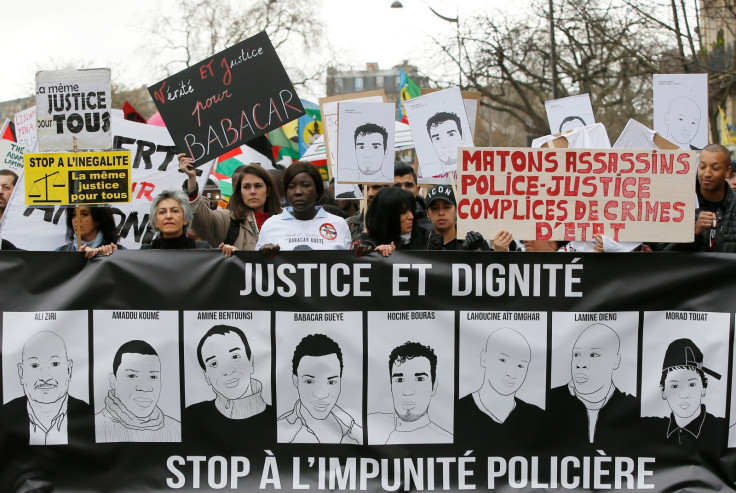 The protests in the past month have moved from the Parisian suburbs known as "banlieues" to the city centres and increased in participation numbers. They have often erupted in violence against property, bus stops and clashes with the authorities.
The clashes between police and demonstrators on Sunday resulted in 11 arrests, AFP reported.