Protesters demanding justice for Theo, the 22-year-old black man who was allegedly raped with a police baton while in custody, have gathered in Paris, Lille and Rouen on 15 February.
The rallies have been marked by episodes of arson of vehicles and rubbish bins, as well as damage to bus stops and shops. Around 200 people were arrested so far in the two weeks of protests following the news of the arrest and abuse of Theo on 2 February, in Aulnay-sous-Bois, around 20km (12mi) away from Paris.
In the capital, police was deployed around the metro station of Barbès-Rochechouart, which borders the touristic area of Montmartre in northern Paris, blocking the access to the four main streets to prevent the unauthorised rally from marching down the city centre.
Around 400 people, according to authorities, participated in the demonstration. As Le Monde reported, they were chanting "Cops, rapists, murderers" and "Zyed, Bouna, Theo and Adama, we won't forget you, we won't forgive".
Besides from Theo, the other names referred to victims of police brutality. The death of 24-year-old Adama Traore in August already sparked days of protests in the Parisian suburb of Beaumont-sur-Oise. Zyed and Bouna were two teenagers who died in 2005 after hiding in a power substation to avoid the police in the Parisian suburb of Clichy-sous-Bois. Their death sparked three week-long violent riots in French suburban neighbourhoods known as banlieues.
French officials reject the idea that these ongoing protests may signal the beginning of a new banlieue crisis. "We are now getting close to nights that are almost normal," interior minister Bruno Le Roux said on 16 February, quoted in Le Parisien. The local media also quotes a police source in Paris saying "the night was very calm" and that "16 vehicles were burnt".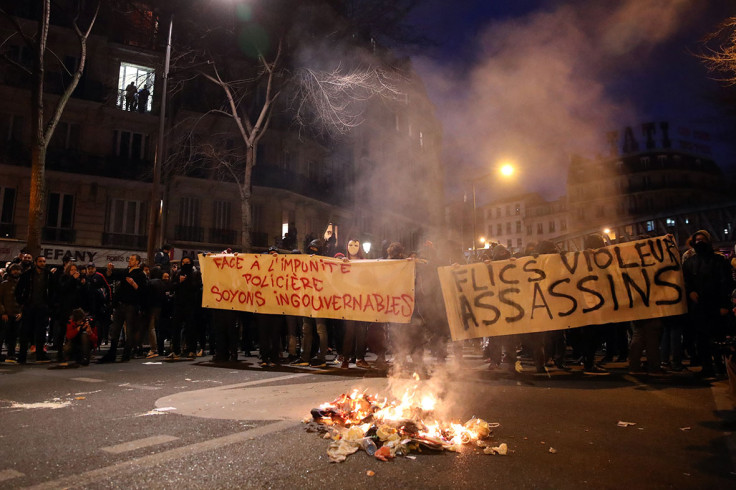 Protesters as well as experts think the discontent felt in the banlieues has not waned in the past 12 years, particularly in relation to discrimination and police brutality. Another 22-year old black man, identified as Mohammed K, told the French media about his own alleged ordeal with one of the officers charged with the attack against Theo, fuelling the indignation and frustration that ignited the rallies two weeks ago.
Four policemen were suspended from the force and detained in connection to the alleged abuse on Monday 6 February. One of the four is charged with rape and other three are accused of voluntarily engaging in violence. Frederic Gabet, a lawyer for the officer charged with rape, argued that any injury inflicted was done accidentally. This version of the events is reportedly supported in a preliminary report by the organisation overseeing French police, the IGPN.