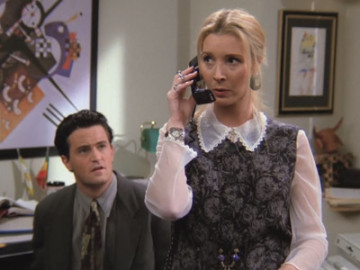 Former Friends stars Matthew Perry and Lisa Kudrow are preparing to reunite on screen for the first time in nine years.
The duo, who played Phoebe and Chandler on the hit US sitcom, will appear together in an upcoming episode of Kudrow's Showtime series, Web Therapy.
According to Digital Spy the cameo is just one of the many treats lined up for fans in the fourth season of the comedy series.
In the new season, Kudrow's self-obsessed character Fiona Wallice expands her web therapy practice in a bid to emulate the success of her husband's career as a well-respected judge and mother's best-selling book.
Although Cox and Perry have not acted together since Friends ended in 2004, other members of the cast have enjoyed mini-reunions.
David Schwimmer, who played Ross, Courteney Cox (Monica) and Matt LeBlanc (Joey) previously guest starred on the show.
Celebrities to appear also include Minnie Driver, Meryl Streep, Steven Carell, Meg Ryan and Alan Cumming.
Kudrow previously revealed that her dream guests would be: "Matthew Perry ... Jennifer Aniston ... They both said I would do that".
So it looks like one down, one to go.