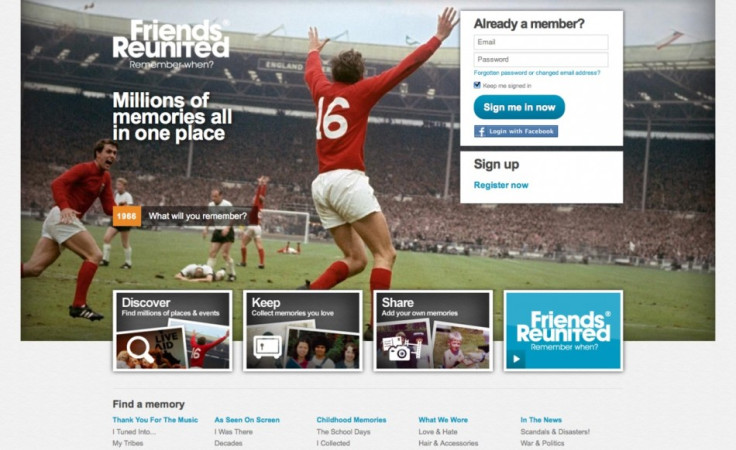 The social-networking site Friends Reunited has been re-launched with a new focus on memories and nostalgia.
The site launched in 2000 to great popularity with its aim to provide former school friends with a means to get in touch.
However the rise of sites such as Myspace and Facebook saw its popularity wane as users found themselves spoilt for choice for online communities.
The new-look site is a result of Friends Reunited owner Brightsolid signing deals with the Press Association and photographic archive.
This gives users access to more than 10 million images, or 'memories' on the site as they are encouraged to find, collect and share their experiences of the past.
Site users will be able to access the millions of archived images, including events such as the 1977 Silver Jubilee, or 1985's Live Aid concert. They then have the offer to "keep" the pictures for their own nostalgic collections, as well as adding their own images.
Personal memories, including pictures, videos and scanned items, can be stored personally or privately.
The new site will automatically create more than 24.3 million "Family Boxes" for each of the existing users. These provide a dedicated place for families to share their own memories in a small group.
Chris Van der Kuyl, CEO of Brightsolid, said: "We're really excited about the opportunity to provide a uniquely nostalgic experience for the UK mainstream, that's not only exciting and engaging, but powerful and lasting too.
"Nowhere else can you find a single place to search, collect and save the bigger, more important moments in your life, memories which, in today's digital world, are in danger of slipping through your fingers.
"We need to protect our precious and shared memories for longevity, which the new site enables you to do, or we're at risk of becoming the lost generation."
The new site will face stiff competition for users amongst an ever widening field of social-networking sites, while Facebook continues to dominate the field with more than 850 million users.
The Friednds Reunited group was purchased by ITV in 2005 for for £175m, but it struggled over the next few years before Brightsolid purchased it for just £25m.
With Facebook's new Timeline feature being rolled out over the next few weeks, it would appear that Friends Reunited is not the only site evolving to allow its users to look back with nostalgia.
However, rather than compete directly, Friends Reunited will encourage users to share their memories via other sites such as Facebook, Twitter and Google. It will also feature a Facebook App that allows memories to be shared with friends.
Ian Maude, head of internet at Enders Analysis, claimed that the site was still capable of carving its own niche.
"The relaunch of Friends Reunited represents the first serious attempt to do something different to Facebook - it's not just another social network, but rather a digital scrapbook aimed specifically at UK internet users. Chris and his team could be onto something."
The re-launch also sees Friends Reunited offer companies and brands access to the site, to "celebrate and discuss their heritage with their customers". Companies will be able to purchase "brand boxes", promoting themselves and offering the site alternate revenue streams.
Van der Kuyl added: "As a company built on nostalgia, we are in a great place to offer brands a way to encourage this heritage in a visually compelling and entertaining way."