Carl Froch produced yet another scintillating display as he overcame Mikkel Kessler in a brutal contest that saw both fighters exchange powerful shots and stand toe-to-toe for the entire 12 rounds.
Neither man gave an inch in what was another classic between the two hardened warriors but it was Froch who was awarded the decision by a surprisingly wide margin.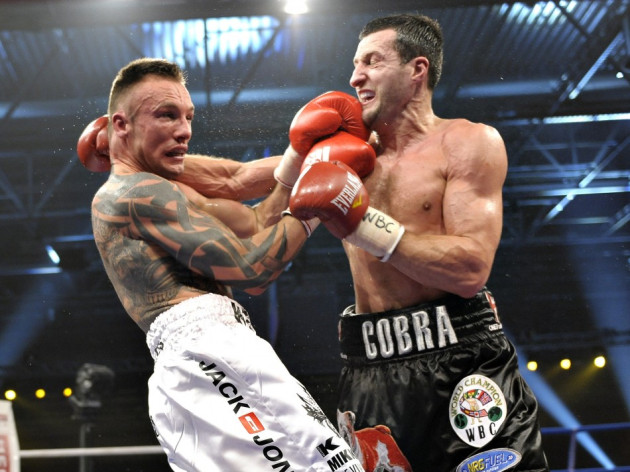 The Nottingham fighter threw more than a thousand punches as the contest proved even more brutal than their first encounter before Froch was declared the victor of scores of 118-10 115-113 116-112.
The one lop-sided score certainly did not do justice to Kessler, who remained dangerous throughout the fight and would have thought that going into the final rounds he would have had a chance of causing the upset.
However, it was Froch that finished the stronger as he added the WBA super-middleweight crown to his IBF title and proved why he is Britain's best fighter.
"It feels really good," Froch said. "The only thing that feels bad is that I have had to beat such a real gentleman, a real warrior and real nice man.
"He did hurt me a couple of times; I think everybody saw that. But I hurt him a little bit more and I thought I deserved the win. I thought it was unanimously my fight."
Froch had won the early rounds, cheered on by a vocal 18,000 fans who created an incredible atmosphere for the home fighter. The Brit was using the jab to perfection as he kept Kessler at bay, often doubling or even tripling up with the ram rod left arm.
Kessler would respond in the middle rounds and he enjoyed some success with his own jab before starting to find the range with powerful straight rights and left hooks.
At the halfway stage there was nothing in it as Kessler continued to stun Froch with some wicked shots to the head, but Froch simply refused to back up an inch and continued to throw his own powerful shots.
It was clear that these are the two most exciting fighters in the division and Andre Ward must have appreciated that fact as he sat in the Sky commentary box watching the action unfold.
The second half of the fight was even better as both men decided to go to war. The seventh and eighth produced back and forth action that had the crowd near hysterical as Kessler was visibly hurt but refused to back down and continued to press forward.
Froch's knee almost buckled late in the fight due to a thunderous right hand from Kessler but once again he regained his composure and simply continued throwing his own jabs and stinging straight rights.
There are few men that could have taken the punishment Kessler delivered in the 11th but Froch has a granite chin and by the end of the round was doing his utmost to force the Dane on the backfoot.
The 12th demonstrated the heart and warrior spirit of both men who simply refused to give an inch as they traded huge blows that brought the crowd to near ecstasy.
Froch pinned Kessler against the ropes and delivered a brutal tirade of shots as he looked to make it clear that he was still strong and ready to go
By the time the final bell sounded both fighters raised their hands and the respect was clear. They had been to hell and back and this time, it was Froch who could celebrate after the announcement fro Michael Buffer.
The Cobra now his sights set on avenging the only other blemish on his record, the wide points loss to Ward.
"I said before this fight that the winner should really be concentrating on moving on and my only other loss was against pound-for-pound No2 in the world Andre Ward," said Froch.
"What a fantastic fighter he is and a great, great champion, but he is there to be beaten. But not over in America - let's get him over here. I went over to America and now let's get him over to England."