It's been known for quite some time that Disney's animated hit Frozen almost ended in a completely different way with Kristen Bell, who appeared in the original, previously teasing that lead character Elsa was more of a "straightforward villain" in earlier drafts of the script. Now, producer Peter Del Vecho has finally revealed the film's original ending, explaining how the dark finale almost played out.
"When we started off, Anna and Elsa were not sisters. They weren't even royal," Del Vecho explained to Entertainment Weekly. "Anna was not a princess. Elsa was a self-proclaimed Snow Queen, but she was a villain and pure evil – much more like the Hans Christian Andersen tale. We started out with an evil female villain and an innocent female heroine and the ending involved a big epic battle with snow monsters that Elsa had created as her army."
He added that Elsa initially turned to the dark side after she was stood up at the altar on her wedding day. The incident froze her heart and she vowed to never love again.
"The problem was that we felt like we had seen it before," Del Vecho continued. "It wasn't satisfying. We had no emotional connection to Elsa – we didn't care about her because she had spent the whole movie being the villain. We weren't drawn in. The characters weren't relatable.
"When the final piece of the creative puzzle fell into place, that moment was downright, well ... heart warming."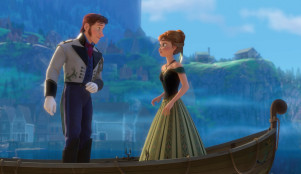 Released in 2013, Frozen follows princess Elsa, who has the power to freeze anything she touches and make ice appear from her bare hands. She lives in fears of her ability, because the older she gets the harder it is to control. As she reluctantly gets more powerful with age, the princess forces herself to spend her days in solitude, never allowing her sister Anna, or the people of her kingdom, to discover her true nature.
But after her mother and father tragically pass away, Elsa is forced to become queen and under the stress of her coronation, reveals her supernatural power. Distraught, she flees to the mountains but not before she accidentally brings down an eternal winter on Arendelle. Fortunately for the kingdom however, Anna is not ready to say goodbye to her sister, and sets out on a quest to reinstate Elsa to the throne and save the day.
Also starring the voice talents of Josh Gad and Idina Menzel, the film made a staggering $1.276 billion (£1.02b) at the worldwide box-office, making the highest-grossing animation of all time. Unsurprisingly given its commercial success, Disney announced that it was developing a sequel in November 2014.