Actress and singer Mandy Moore has mooted a macabre fan theory linking Disney's animated films Frozen and Tangled. The 32-year-old, who voiced Rapunzel in 2010's Tangled, described the notion as "morbid".
Beginning as a post on Tumblr, it hypothesises that the King and Queen of Arendelle (from Frozen) were on their way to the wedding of Rapunzel and Eugene (in Tangled) when their ship sank.
This then obligated the newlyweds to attend Elsa's coronation ceremony when they make their cameo in Frozen.
Speaking to TVLine, Moore – who is one again voicing Rapunzel in the brand new Disney Chanel original film Tangled: Before Ever After and spin-off TV show, Tangled: The Series – said: "That's a pretty morbid fan theory.
"It feels like someone is really reaching, like into Lost territory or something."
She continued: "There is no connection as far as I know. But sure, people can imagine what they will all day, that's their prerogative."
In addition to Frozen, Rapunzel has also cropped up in Disney Channel series Sofia The First.
Asked earlier in the interview whether similar crossovers were likely to happen in her character's own series, Moore said she that while not impossible, she didn't feel it necessary.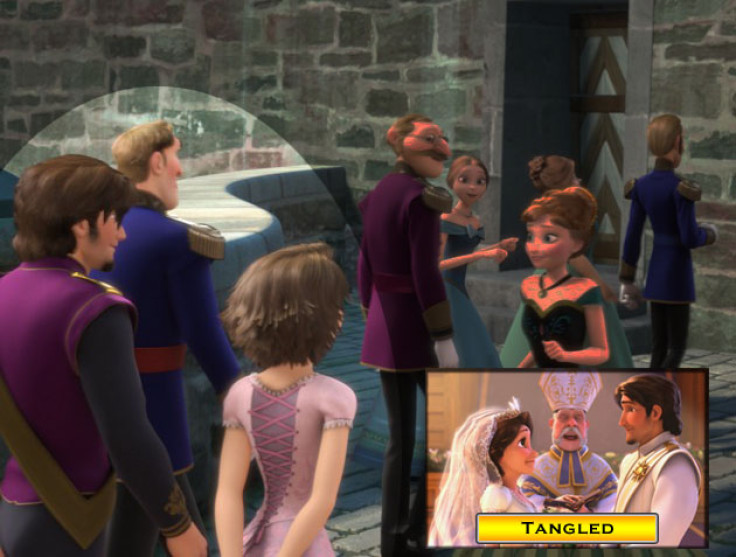 She explained: "I know that Disney Channel is very big on crossovers, but I feel like the world and kingdom of Corona is so rich. I don't know if we need any crossovers at this point."
Also returning with Moore is Zachary Levi as Rapunzel's love interest Flynn Rider, who is now going by his real name of Eugene, plus, fan-favourite sidekicks Pascal and Maximus are back.
Both the film and series will introduce new character Cassandra (voiced by Eden Espinosa) and unlike the original 2010 feature, these latest instalments will be animated in classic 2D rather than 3D CGI.
Tangled: Before Ever After will air on the UK Disney Channel some time in summer 2017, but no official date as yet confirmed.