Following in the footsteps of the recently-released Angry Birds movie, a film based on the equally-as-popular mobile video game Fruit Ninja, is said to be in development. The movie will reportedly be live-action take on the game with over one billion downloads to its name, according to The Hollywood Reporter.
JP Lavin and Chad Damiani (The 59th Primetime Emmy Awards) are on board to write the script.
While the game itself is pretty basic – the objective being that you slice through as many pieces of fruit as you can with your touch-screen in the allotted time – an idea on the upcoming movie's plot is vague, but Angry Birds has proved you can invent a story around the characters of an app rather than the gaming premise. Already within the Fruit Ninja universe, there is Sensei, an elder character within the game, who regular gives tips to the player and practises his art in the Fruit Ninja dojo.
His grandchildren also appear in newer updates of the game, including green-haired Katsuro, blonde-haired Han, red-haired granddaughter Mari and fourth sibling Nobu. The children's uncle Gutsu appears in bonus game, Gutsu's Cart too, alongside his best friend Truffles, a curious and relentlessly hungry pig.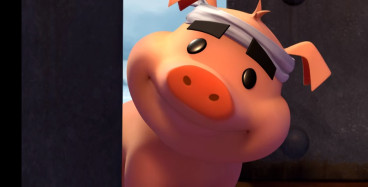 Fruit Ninja is one of the world's most popular phone games, second only to Candy Crush on the list of most popular Android games. The Angry Birds movie has already made $151m (£104.2m) at the worldwide box-office and soared straight to the top of the US box-office since its release across the pond on Friday 20 May. While Fruit Ninja hasn't signed a director nor any cast members yet, Angry Birds features the vocal talents of many big names including Bill Hader, Blake Shelton, Kate McKinnon, Jason Sudeikis, Josh Gad, Danny McBride, Maya Rudolph, Charlie XCX, YouTube star Billy Eichner, comedian Hannibal Buress and Sean Penn.