Manchester City's controversial striker Mario Balotelli has been charged by the FA for stamping on Scott Parker during their 3-2 victory over Tottenham on Sunday, and the club's assistant manager, David Platt, has suggested they will not lodge a 'futile' appeal.
The precocious young Italian has until 6pm on Wednesday to respond to a charge of violent conduct, but Platt suggested on Tuesday that Manchester City were likely to accept the punish, which was the result of a cowardly stamp on the aforementioned Tottenham star at the weekend.
Balotelli was dismissed in November against Liverpool and the mercurial Manchester City star is subsequently facing a four-match ban. Should the Premier League leaders contest the punishment from the Football Association, which was announced last night, Balotelli's suspension could be increased if the appeal is unsuccessful.
Balotelli could be the second Manchester City play to face a four-game ban in a matter of weeks, following Vincent Kompany's contentious red card against Manchester United in the FA Cup third round.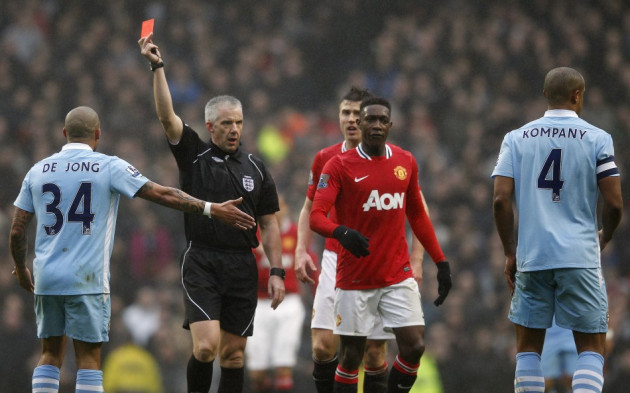 Platt believes the inconsistencies in the FA's rulings and the way they handle incidents which have allegedly been missed by referees, is merely exasperating an already frustratingly confusing process.
While the Manchester City assistant acknowledged Balotelli is likely to accept the ban, he disputed Howard Webb's claims that he did not see the incident.
"We are likely to be without a player for four games," Roberto Mancini's assistant told The BBC.
"I don't think there is anybody who thought we would win the appeal with Vincent Kompany.
"But I don't think anybody thought he deserved a four-match ban.
"Sometimes it shows you the futility of appealing."
Speaking about the incident involving Balotelli and Tottenham's Parker, Platt added: "I have seen it from an angle where I can think the referee saw it live, like I did.
"Other people saw it live and didn't react. Nobody. Not one of the Tottenham players or staff. The referee didn't react live.
"When you slow it down that's where all the reactions come.
"I don't know what has gone on but there seems a huge inconsistency in refereeing matches on a Monday morning.
"Shouldn't you revisit everything that has happened over the weekend?"
The apparent inconsistences mentioned by Platt are perhaps best illustrated by the FA's failure to retrospectively punish Joleon Lescott for an alleged elbow on Younes Kaboul.
The Manchester City star evidently caught his Tottenham counterpart in the face with a an unusually stray forearm, yet Webb's post-match report suggested he would only have cautioned the player.
Webb's failure to send off Balotelli proved a hugely costly error for Tottenham, as the Manchester City striker won and scored the penalty in stoppage time.