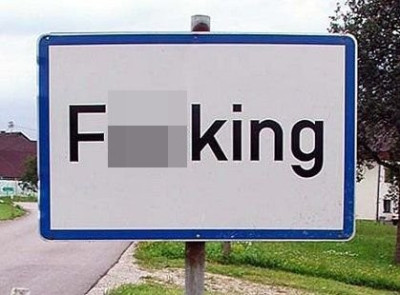 Austrian villagers who voted to change the name of their town from F**king to Fugging have been told they must find another name because the alternative has already been taken.
Villagers in Upper Austria voted in favour of changing the name to Fugging but the appeal was rejected as a second village, also formerly known as F**king' had made exactly the same move - nearly 200 years ago.
Mayor of Fugging Andrea Dockner, 200 miles south of F**king, said: "Nobody alive now remembers why it was changed from F**king to Fugging, but it was and that is now our name. We think one Fugging in Austria is enough.
"The first mention of our village as F**king was was in 1195 where it was recorded in the records of the local monastery. By 1836 it was Fugging.
"I can't say whether the decision to change the name from F**king to Fugging was anything to do with embarrassment at its meaning in English."
He added: "We are certainly a lot closer to Vienna, which was the centre of the Habsburg Empire at the time, and there probably would have been a lot more English visitors there who might have raised the matter.
"If our village was called F**king, I don't think it would be a problem - we are proud of it and I'm sure we wouldn't change the name - I'd advise F**king not to change anything."