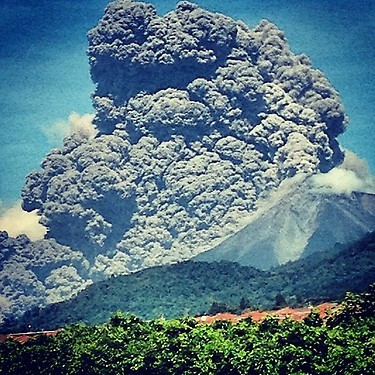 Over 33,000 people are expected to be evacuated after Guatemala's Fuego volcano started spewing smoke and ash two miles into the sky and lava began flowing down the slopes.
According to the Guatemala emergency agency CONRED, nearly 11,000 people have already been evacuated with 8,000 more waiting for transfer. Another 10,000 may be evacuated depending on the nature of the wind strength, direction and ash emissions.
People from 17 villages around the volcano are preparing to leave their homes.
"For the moment, the strength (of the eruption) has not calmed," Sergio Cabanas, CONRED's director of emergency responses, told Reuters.
"The greater danger right now is the ash [than the lava]."
Two lava flows, spanning 600m, have already emanated from Fuego, which is located 31 miles south-west of Guatemala City and just 10 miles from the colonial city of Antigua, a popular tourist destination.
"It is a shame, but this is a fact of life in our country, so we will do the best we can to avoid people being harmed," Guatemalan President Otto Perez Molina, who is on a state visit to Costa Rica, told reporters.
Airport authorities have amended the approach route between Guatemala City's La Aurora airport and Tapachula International Airport in Chiapas, Mexico, to avoid flight disruptions.
"For the moment, we are urging caution because of the changing winds near the volcano, mainly from the east and southeast," civil aviation spokeswoman Oddra Lacs told Reuters.
A red alert, the highest grade of warning for volcanoes, has been issued at the south and south-east of the 3,763-metre-high volcano.
Fuego has had five eruptions so far in this year, and the last eruption was on May.