Dried peaches and sake wine from Fukushima were served to visitors at a global food fair in Italy, as Japan seeks to banish the ghost of radioactivity from the region hit by a nuclear disaster in 2011. The food was offered by the Japanese pavilion at the universal exhibition in Milan, as part of a four-day campaign to persuade the public that it is safe to eat products from the prefecture, four years after the contaminating incident at the Fukushima Daiichi nuclear plant.
"Our aim is to communicate the appeal of Fukushima's traditional cuisine as the region is actively committed to reconstructing itself and ensuring the safety of local food products as well as increasing export and tourism," a spokeswoman said.
After the earthquake and tsunami caused a reactor meltdown, Japan launched an extensive effort to decontaminate the area surrounding the power plant and make sure food products with radioactive material exceeding the country's strict safety levels do not reach market shelves.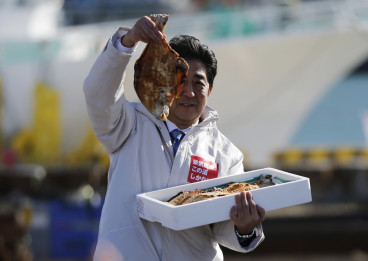 The Fukushima prefecture boasts its monitoring system is "perfect" and transparent, with controls carried out on all products. According to it, only a very low percentage of food tested over the past six months had over-limit radiation levels. None of more than one million bags of rice checked, for example, revealed hazardous radiation levels, while only 0.1% of tested marine products was deemed unsafe.
An analysis of the vast database of about 900,000 samples collected by authorities from 2011 to 2014, published earlier this year by Stefan Merz, an environmental scientist at the Vienna University of Technology, and other researchers on environmental science and technology, revealed the proportion of above-limit food had decreased over time, from 3.3% to 0.6%.
"The prefecture not only blocks shipment of these foodstuffs but also restricts the shipment of foodstuffs from municipalities where these contaminated foodstuffs are grown or produced," an information brochure provided by the Japan pavilion read, adding that safety of products that reach the market "is absolutely ensured". "You can purchase them without anxiety," it read.
Government reassurances however seemed to have still a long way to go before winning back customers' trust. Most comments to an article on the Expo initiative published by an English language Japanese news outlet expressed scepticism at Fukushima food safety.
Similarly, a February survey by the Consumer Affairs Agency found that almost one in five Japanese buyers were wary of foodstuffs coming from the province.
The Expo campaign came weeks after residents of a small town in the Fukushima Prefecture were allowed back without limitations. In September, Naraha became the first of seven municipalities to completely lift an evacuation order imposed by the government after the earthquake, but only 200 of its about 7,800 residents have reportedly returned home since.