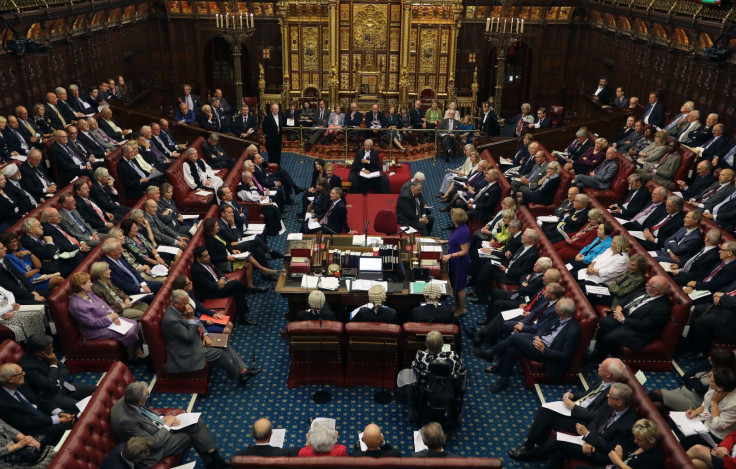 The Government suffered a huge defeat as it prepares to trigger Article 50 after the House of Lords voted to back an amendment to guarantee EU citizens the right to stay in the UK post-Brexit.
The peers defied Prime Minister Theresa May after voting 358 to 256 in favour of the amendment to the European Union (Notification of Withdrawal) Bill to protect EU citizens' rights after the amendment was previously rejected by MPs.
The Government has already said it is "disappointed" by the defeat and is seeking to reverse it when the bill returns to the House of Commons.
A spokesperson for the Brexit Department said: "The bill has a straightforward purpose – to enact the referendum result and allow the Government to get on with the negotiations.
"Our position on EU nationals has repeatedly been made clear. We want to guarantee the rights of EU citizens who are already living in Britain, and the rights of British nationals living in other member states, as early as we can."
The prime minister said the vote will not derail her long-standing plans to trigger Article 50 by the end of March.
Full list of Lords who voted for rights of EU Citizens
Bishops 2
Leeds, Bishop
Newcastle, Bishop
Conservative 7
Altmann, Baroness
Bowness, Lord
Cormack, Lord
Hailsham, Viscount
Livingston of Parkhead, Lord
Selborne, Earl
Wheatcroft, Baroness
Crossbench 78
Aberdare, Lord
Alton of Liverpool, Lord
Berkeley of Knighton, Lord
Best, Lord
Bichard, Lord
Bilimoria, Lord
Boothroyd, Baroness
Brown of Cambridge, Baroness
Brown of Eaton-under-Heywood, Lord
Campbell of Surbiton, Baroness
Clancarty, Earl
Colville of Culross, Viscount
Condon, Lord
Coussins, Baroness
Cromwell, Lord
D'Souza, Baroness
Dykes, Lord
Eames, Lord
Elystan-Morgan, Lord
Falkland, Viscount
Finlay of Llandaff, Baroness
Ford, Baroness
Freyberg, Lord
Grabiner, Lord
Greengross, Baroness
Greenway, Lord
Hannay of Chiswick, Lord
Harries of Pentregarth, Lord
Haskins, Lord
Hastings of Scarisbrick, Lord
Hayman, Baroness
Hennessy of Nympsfield, Lord
Hollins, Baroness
Howe of Idlicote, Baroness
Janvrin, Lord
Jay of Ewelme, Lord
Kerr of Kinlochard, Lord
Kerslake, Lord
Kidron, Baroness
Kinnoull, Earl
Krebs, Lord
Lane-Fox of Soho, Baroness
Levene of Portsoken, Lord
Lisvane, Lord
Low of Dalston, Lord
Macpherson of Earl's Court, Lord
Mair, Lord
Manningham-Buller, Baroness
Mar, Countess
Masham of Ilton, Baroness
Meacher, Baroness
Morgan of Drefelin, Baroness
Myners, Lord
Neuberger, Baroness
O'Donnell, Lord
Ouseley, Lord
Pannick, Lord
Patel, Lord
Rees of Ludlow, Lord
Rowe-Beddoe, Lord
Russell of Liverpool, Lord
Sandwich, Earl
Singh of Wimbledon, Lord
Somerset, Duke
St John of Bletso, Lord
Stern of Brentford, Lord
Stern, Baroness
Thomas of Swynnerton, Lord
Turnbull, Lord
Turner of Ecchinswell, Lord
Valentine, Baroness
Warner, Lord
Watkins of Tavistock, Baroness
Wilson of Dinton, Lord
Wolf of Dulwich, Baroness
Woolf, Lord
Wright of Richmond, Lord
Young of Hornsey, Baroness
Labour 165
Adams of Craigielea, Baroness
Allen of Kensington, Lord
Anderson of Swansea, Lord
Andrews, Baroness
Armstrong of Hill Top, Baroness
Bach, Lord
Bakewell, Baroness
Bassam of Brighton, Lord
Beecham, Lord
Berkeley, Lord
Bhattacharyya, Lord
Billingham, Baroness
Blackstone, Baroness
Blunkett, Lord
Bradley, Lord
Bragg, Lord
Brennan, Lord
Brooke of Alverthorpe, Lord
Brookman, Lord
Campbell-Savours, Lord
Carter of Coles, Lord
Cashman, Lord
Chakrabarti, Baroness
Chandos, Viscount
Christopher, Lord
Clark of Windermere, Lord
Clarke of Hampstead, Lord
Clinton-Davis, Lord
Cohen of Pimlico, Baroness
Collins of Highbury, Lord
Corston, Baroness
Crawley, Baroness
Cunningham of Felling, Lord
Darling of Roulanish, Lord
Darzi of Denham, Lord
Davies of Oldham, Lord
Davies of Stamford, Lord
Desai, Lord
Donaghy, Baroness
Donoughue, Lord
Drake, Baroness
Drayson, Lord
Dubs, Lord
Elder, Lord
Evans of Watford, Lord
Falconer of Thoroton, Lord
Farrington of Ribbleton, Baroness
Faulkner of Worcester, Lord
Foster of Bishop Auckland, Lord
Foulkes of Cumnock, Lord
Gale, Baroness
Giddens, Lord
Glasman, Lord
Golding, Baroness
Goldsmith, Lord
Gordon of Strathblane, Lord
Goudie, Baroness
Grantchester, Lord
Griffiths of Burry Port, Lord
Grocott, Lord
Hain, Lord
Hanworth, Viscount
Harris of Haringey, Lord
Harrison, Lord
Haskel, Lord
Haworth, Lord
Hayter of Kentish Town, Baroness
Healy of Primrose Hill, Baroness
Henig, Baroness
Hilton of Eggardon, Baroness
Hollick, Lord
Hollis of Heigham, Baroness
Howarth of Newport, Lord
Howells of St Davids, Baroness
Hoyle, Lord
Hughes of Woodside, Lord
Hunt of Chesterton, Lord
Hunt of Kings Heath, Lord
Hutton of Furness, Lord
Irvine of Lairg, Lord
Jones of Whitchurch, Baroness
Jones, Lord
Jordan, Lord
Jowell, Baroness
Judd, Lord
Kennedy of Southwark, Lord
Kennedy of The Shaws, Baroness
Kingsmill, Baroness
Kinnock of Holyhead, Baroness
Kinnock, Lord
Kirkhill, Lord
Knight of Weymouth, Lord
Layard, Lord
Lea of Crondall, Lord
Lennie, Lord
Levy, Lord
Liddell of Coatdyke, Baroness
Liddle, Lord
Lipsey, Lord
Lister of Burtersett, Baroness
Livermore, Lord
MacKenzie of Culkein, Lord
Mandelson, Lord
Massey of Darwen, Baroness
McAvoy, Lord
McDonagh, Baroness
McIntosh of Hudnall, Baroness
McKenzie of Luton, Lord
Mendelsohn, Lord
Monks, Lord
Moonie, Lord
Morgan of Huyton, Baroness
Morgan, Lord
Morris of Aberavon, Lord
Morris of Handsworth, Lord
Morris of Yardley, Baroness
Murphy of Torfaen, Lord
Nye, Baroness
O'Neill of Clackmannan, Lord
Patel of Bradford, Lord
Pendry, Lord
Pitkeathley, Baroness
Plant of Highfield, Lord
Ponsonby of Shulbrede, Lord
Prescott, Lord
Prosser, Baroness
Puttnam, Lord
Quin, Baroness
Ramsay of Cartvale, Baroness
Rea, Lord
Rebuck, Baroness
Richard, Lord
Rogers of Riverside, Lord
Rooker, Lord
Rosser, Lord
Rowlands, Lord
Royall of Blaisdon, Baroness
Sawyer, Lord
Sherlock, Baroness
Simon, Viscount
Smith of Basildon, Baroness
Snape, Lord
Soley, Lord
Stevenson of Balmacara, Lord
Stone of Blackheath, Lord
Symons of Vernham Dean, Baroness
Temple-Morris, Lord
Thornton, Baroness
Tomlinson, Lord
Touhig, Lord
Triesman, Lord
Tunnicliffe, Lord
Watts, Lord
West of Spithead, Lord
Wheeler, Baroness
Whitaker, Baroness
Whitty, Lord
Williams of Elvel, Lord
Wills, Lord
Winston, Lord
Wood of Anfield, Lord
Woolmer of Leeds, Lord
Worthington, Baroness
Young of Norwood Green, Lord
Young of Old Scone, Baroness
Liberal Democrat 93
Addington, Lord
Allan of Hallam, Lord
Ashdown of Norton-sub-Hamdon, Lord
Bakewell of Hardington Mandeville, Baroness
Barker, Baroness
Beith, Lord
Benjamin, Baroness
Bonham-Carter of Yarnbury, Baroness
Bowles of Berkhamsted, Baroness
Bradshaw, Lord
Brinton, Baroness
Bruce of Bennachie, Lord
Burnett, Lord
Burt of Solihull, Baroness
Campbell of Pittenweem, Lord
Chidgey, Lord
Clement-Jones, Lord
Cotter, Lord
Dholakia, Lord
Doocey, Baroness
Falkner of Margravine, Baroness
Fearn, Lord
Featherstone, Baroness
Foster of Bath, Lord
Fox, Lord
Garden of Frognal, Baroness
German, Lord
Glasgow, Earl
Goddard of Stockport, Lord
Greaves, Lord
Grender, Baroness
Hamwee, Baroness
Harris of Richmond, Baroness
Humphreys, Baroness
Hussain, Lord
Hussein-Ece, Baroness
Janke, Baroness
Jolly, Baroness
Jones of Cheltenham, Lord
Kirkwood of Kirkhope, Lord
Kramer, Baroness
Lee of Trafford, Lord
Lester of Herne Hill, Lord
Ludford, Baroness
Macdonald of River Glaven, Lord
Maddock, Baroness
McNally, Lord
Miller of Chilthorne Domer, Baroness
Newby, Lord
Northover, Baroness
Oates, Lord
Paddick, Lord
Palmer of Childs Hill, Lord
Parminter, Baroness
Pinnock, Baroness
Randerson, Baroness
Razzall, Lord
Redesdale, Lord
Rennard, Lord
Roberts of Llandudno, Lord
Rodgers of Quarry Bank, Lord
Scott of Needham Market, Baroness
Scriven, Lord
Sharkey, Lord
Sheehan, Baroness
Shipley, Lord
Shutt of Greetland, Lord
Smith of Clifton, Lord
Smith of Newnham, Baroness
Steel of Aikwood, Lord
Stephen, Lord Content
Stoneham of Droxford, Lord
Storey, Lord
Strasburger, Lord
Stunell, Lord
Suttie, Baroness
Taverne, Lord
Teverson, Lord
Thomas of Gresford, Lord
Thomas of Winchester, Baroness
Thornhill, Baroness
Thurso, Viscount
Tope, Lord
Tyler of Enfield, Baroness
Tyler, Lord
Vallance of Tummel, Lord
Verjee, Lord
Wallace of Saltaire, Lord
Wallace of Tankerness, Lord
Walmsley, Baroness
Watson of Richmond, Lord
Willis of Knaresborough, Lord
Wrigglesworth, Lord
Other 13
Adonis, Lord
Ahmed, Lord
Eatwell, Lord
Elis-Thomas, Lord
Jones of Moulsecoomb, Baroness
Loomba, Lord
Mackenzie of Framwellgate, Lord
Mitchell, Lord
Oakeshott of Seagrove Bay, Lord
Smith of Finsbury, Lord
Tonge, Baroness
Uddin, Baroness
Wigley, Lord