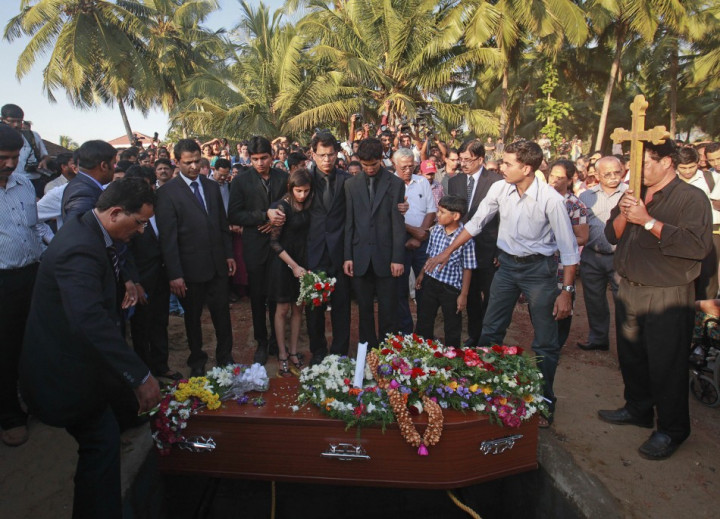 The funeral of the nurse who was found dead after taking a prank call about Kate Middleton at a London hospital has taken place in her Indian hometown.
Jacintha Saldanha, 46, was buried in the village of Shirva, north of Mangalore on the south-west Indian coast.
The ceremony for the mother-of-two was attended by her family and hundreds of mourners. The coffin was first taken to Saldanha's mother-in-law's house for prayers before being laid at the Our Lady of the Health church.
Saldanha's husband Benedict Barboza and their two teenage children Junal, 16, and Lisha, 14, arrived in the country on 16 Decemeber with her body from the UK, where the family moved about 12 years ago.
During a mass memorial held in Westminster two days before the funeral, the family paid tribute to a "kind-hearted, generous and well-respected woman".
Barboza said: "My wife, you were the light in my darkness, who always showed me the way forward.
"From the day we met, you always stood by me in times of hardship and happiness. I feel a part of me has been ripped out."
Saldanha's daughter Lisha, 14, said: "We will miss your laughter, the loving memories and the good times we had together. The house is an empty dwelling without your presence.
"We are shattered and there's an unfillable void in our lives."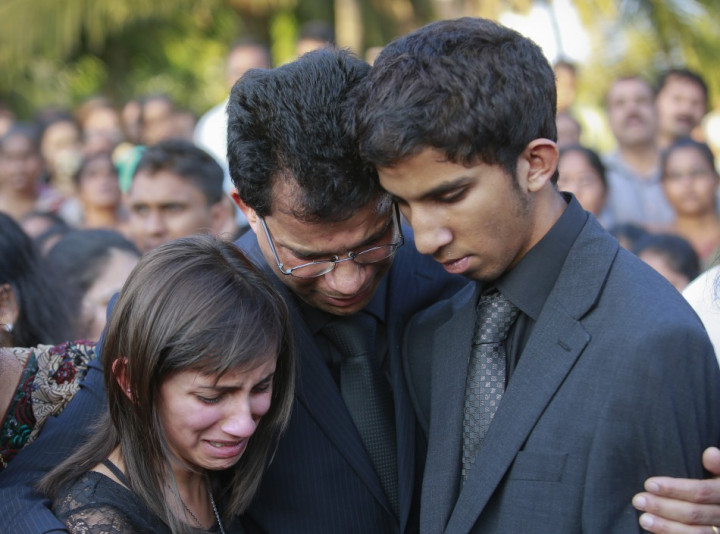 The nurse was found hanged at an address near King Edward VII's hospital after transferring a hoax phone call from two Australian who were inquiring about the Duchess of Cambridge Kate Middleton while she was being treated for acute morning sickness.
Saldanha left three suicide notes, an inquest revealed, one of which is said to be critical of her colleagues at the King Edward VII Hospital.
Following her death, the hospital said: "Jacintha has worked at the King Edward VII's Hospital for more than four years. She was an excellent nurse and well-respected and popular with all of her colleagues.
"The hospital had been supporting her throughout this difficult time."
Australian police say death threats have been made against the DJs 2Day FM radio station, Mel Greig and Michael Christian, who made the call posing as the Queen and Prince Charles.
Southern Cross Austereo (SCA), the parent company of 2Day FM, have since cancelled the pair's Hot 30 show and suspended prank calls across the company.