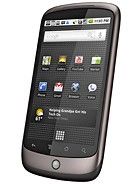 With Apple's 4 October iPhone media event just having been confirmed, new reports have emerged suggesting further details about Google's future Nexus Prime smartphone.
According to a report from SlashGear, Google's next entry into its flagship Nexus series of devices has just received its Bluetooth certification. The news that the Nexus Prime has been given its Bluetooth certification has since been used as further evidence that the device's launch isn't far off.
The news adds to a slew of other rumours regarding the fabled smartphone. Most recently, according to a report from CNET UK the Nexus Prime will run using the Google's future Ice Cream Sandwich Android operating system.
CNET also suggested the device would be "blazingly fast," packing a 1.5GHz Exynos dual-core processor, 1GB of RAM and house a curved 4.65-inch 1,280x720-pixel Super AMOLED Plus touchscreen.
If true the release could mean that the Nexus Prime would be released roughly the same time as Apple's fable iPhone 5. The device is widely expected to be unveiled at the company's recently revealed 4 October media event.
Samsung, the company expected to make the Nexus Prime, is yet to confirm SlashGear's report.