Former Libyan leader Muammar Gaddafi forced Tony Blair to confirm he did not support al-Qaeda at the height of the Libyan revolution, it has been revealed in never before seen telephone transcripts.
In two calls the former British prime minister made to the dictator, as the international community considered intervention in Libya, Blair was forced into a series of bizarre clarifications and denials as he attempted to broker a peaceful resolution to the conflict.
As he said there was no conflict in Libya, Gaddafi told Blair: "People spreading rumours through the TV stations. Those people are from Guantanamo, we know them by name, they support al-Qaeda – do you support al-Qaeda?"
"No, absolutely not," Blair replied as he explained Gaddafi had at best two or three days before he passed a point to no return with the international community.
In a later crazed exchange, Gaddafi accused Blair of attempting to recolonise Libya. "It seems this is colonisation I will have to arm the people and get ready for a fight," he told the former Labour prime minister.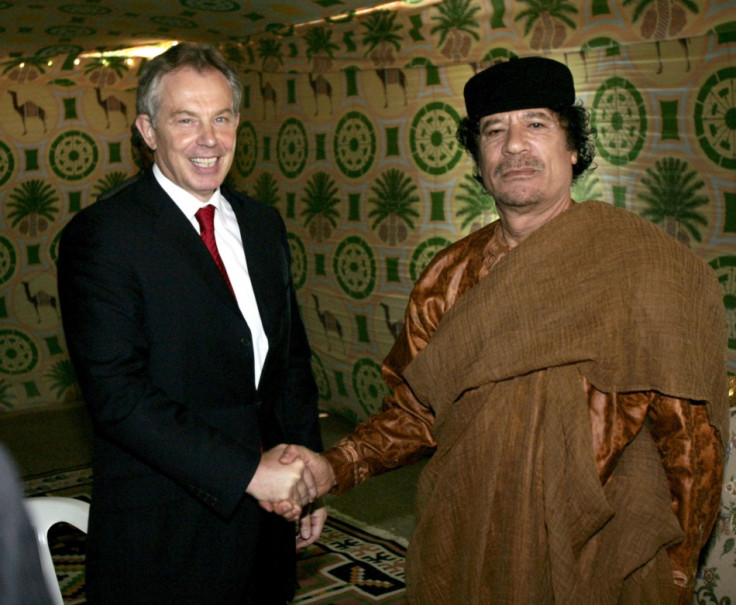 "Let me ask... let me be clear, no one wants to recolonise Libya – Libya is for its people," Blair told Gaddafi.
The phone calls took place on 25 February 2011 and have been made available as the UK parliament investigates Britain's role in the intervention against Gaddafi during the same year. Made just as the Libyan revolution gained pace, the conversations between the two men show at the time Gaddafi was wilfully deluded and saw enemies everywhere.
Above all, the former North African strongman was obsessed with al-Qaeda and was convinced the militant group was responsible for the uprising in Libya. "The story is simply this: an organisation has laid down sleeping cells in North Africa ... the sleeping cells in Libya are similar dormant cells in America before 9/11," Gaddafi said.
Blair was attempting with little success to convince Gaddafi to step down and allow a peaceful resolution to the crisis.