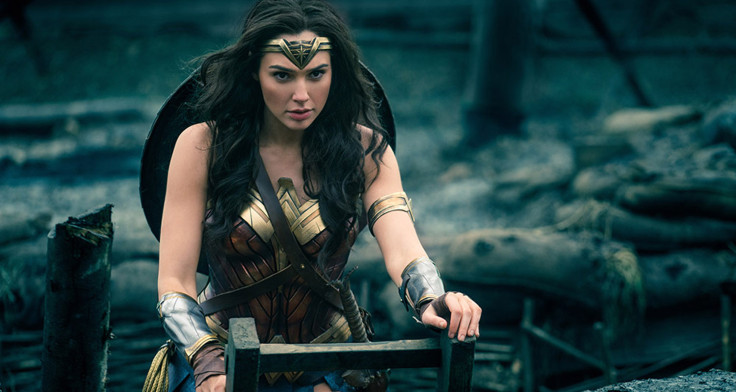 After grossing a staggering £514 million ($667m) worldwide, Wonder Woman fans were stunned to learn that Gal Gadot only earned $300, 000 as the title character.
Gadot's salary pales in comparison to the $40million Robert Downey Jr reportedly gets for playing Iron Man but is on par with what Henry Cavil took home for his role as Superman in the 2013 movie Man of Steel.
"I'm grateful and happy," the 32-year-old told TMZ when quizzed about being shortchanged as she strolled with her and husband Yaron Versano on Rodeo Drive in Beverly Hills.
When the photographer insisted that she deserved more for the next film in the franchise, the mother-of-two joked, "I think I should get you as my lawyer to do the negotiations."
Although salary figures have not been released and Warner Bros had refused to comment, Gadot isn't the first leading lady to earn less for the same job. Back In April Oscar-winning actress Natalie Portman revealed her co-star Ashton Kutcher was paid three times more than she was for appearing in 2011 romcom No Strings Attached. Although both shared the same amount of airtime in the film.
"I knew and I went along with it because there's this thing with 'quotes' in Hollywood," she told Marie Claire UK. "His was three times higher than mine, so they said he should get three times more. I wasn't as pissed as I should have been. I mean, we get paid a lot, so it's hard to complain, but the disparity is crazy."
Amy Pascal, co-chair of Sony Pictures Entertainment admitted in 2013 that part of the issue of the gender pay gap in Hollywood is due to the scarcity of leading female roles in high-paying blockbusters and franchises. "There are not enough parts for women to star in to get paid," she told Forbes "So when you are looking at the total amount that women make as compared to men, it's paltry. I think that the whole system is geared for them [women] to fail and we're going to have to change a lot of what we do in order for that to happen."
Although Gadot is yet to hit the million-mark for roles, there is evidence to suggest that she has real earning power and can build towards a big sequel payday as her the franchise take offs. Chris Evans went on to make $7 million for his role in 2015's Avengers: Age Of Ultron, after earning the same base pay as Gadot for his first Captain America film in 2011.